Description
SPONSORED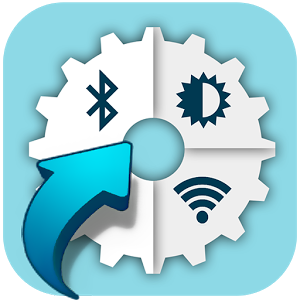 Do not waste time in the long hauls of your latest smart phone and jump into the drawer of your setting with the settlement of shortcuts. Make a group of your needed settings and add ease in the usage of your main operations.
The device probably have fewer settings that needs quick access on the regular basis. Instead of moving to and fro into the Settings of app every time, create shortcut through ADD SHORTCUT widget to the particular locations in the Settings with a way to click.
Installation of ADD SHORTCUT will display on your "Home" screen by having the names of the various "Settings" app you like to or need to apply to the widget for quick accessibility.
To perform this, touch and tap the icon either in the front or to the bottom of your screen in Portrait mode or make it the landscape of your screen.
Make all the functions friendly and lift up finger and drag the part on a location.Features:
• Accessibility
• Apps
• Battery
• Synchronization
• Bluetooth
• Data usage
• Display
• Location
• Settings
Usability:
• Long-tap the home screen.
• Tap "WIDGETS".
• Long-tap "Activities" which has the icon.
• Drag it to somewhere on the screen.
• Widget will be launched.
• Select the desired activity, edit and tap to create it.
• The friendly shortcut will be on the home screen of device.
• Add a weather widget for the utmost convenience
Amenities:
• Easy navigation between cities: swipe either to the left or to the right to switch between locations
• Local time in 12 or 24-hour format
• Customizable layout. Choose weather parameters you want to be displayed in the layout settings
• Add shortcuts to your frequently needed settings
Add application shortcuts precisely by touching and holding the required application. Get the basic procedures that assures the possibility of pertinent interface with the App Widget, then update and install the App Widget and enable and disable the functions according to your need.
Best Features:
– WIFI toggle OnOff
– gps toggle onoff
– rotation toggle onoff
– quick tweeting widget
– mobile data toggle ONOFF
Note: Some features have different behavior phone to phone so please try only features that are supported on your phone.
Screenshots
What's New
Bug fixes
Permission
read calendar events plus confidential information
precise location (GPS and network-based)
read phone status and identity
read phone status and identity
full network access
connect and disconnect from Wi-Fi
view network connections
prevent device from sleeping
change network connectivity
set an alarm
pair with Bluetooth devices
access Bluetooth settings
control Near Field Communication
toggle sync on and off
modify system settings
read sync settings
 Size: 3MB
Version: 1.0

  
SPONSORED