Description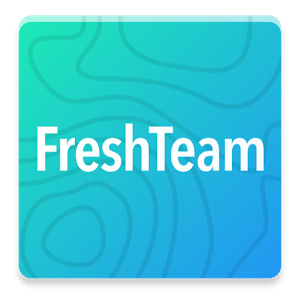 FreshTeam is a messaging app that saves mobile teams time. You see your team on a map, have group calls, and do other amazing things not possible with texts or email.Connect with colleagues with your FreshTeam username. Phone numbers are not necessary.
View where team members are now, down to the address. No time wasted figuring out who is where.
Control who you share your location with and when. FreshTeam is private.
Text and call one-on-one and in groups. Share unlimited photos, videos, voice notes and files.
TOTAL TEAM AWARENESS
· Use the map tab to view where your team is located right now. You only share your location when you want and with whom you want.
· See at a glance from your chats tab when friends are online, on FreshTeam calls, and more
· Know when your messages are sent (one check), delivered to your friend's phone (two gray checks) and read (two blue checks)
BUSINESS-GRADE GROUP CHAT AND CALLS
· Create groups to chat and have conference calls with HD sound. No more dial-in numbers and pins.
· The group creator names the group, adds members, and more. The group creator can give other group members these powers by making them administrators.
· New group members see the group's discussion from before they joined. It's easy for new group members to catch up.
SPONSORED

GREAT TIME-SAVING FEATURES WHEN ON THE GO
· Send voice notes when you can't type. Tap the mic button in a chat.
· Make a phone or video call to any user in one tap. One tap to start or join a conference call. No more worrying about phone numbers and dial-ins.
· Send files, photos, and videos from any other app to FreshTeam users and groups. Just open the file, and tap the open-in icon.
Screenshots
What's New
Optional group call recording! To record a group call, start the call, and then tap record when you wish to begin recording. Participants are notified the call is recorded. The recording is posted to the group after the call. It's a great way to keep team members who can't participate up to date, and to have records of your important calls.
Permission
Version 2.0 can access:
find accounts on the device
add or remove accounts
read your contacts
find accounts on the device
approximate location (network-based)
precise location (GPS and network-based)
read phone status and identity
modify or delete the contents of your USB storage
read the contents of your USB storage
modify or delete the contents of your USB storage
read the contents of your USB storage
read phone status and identity
receive data from Internet
full network access
view network connections
control vibration
reorder running apps
change your audio settings
pair with Bluetooth devices
send sticky broadcast
create accounts and set passwords
prevent device from sleeping
run at startup
Size: 20 MB
Version:2.0
SPONSORED