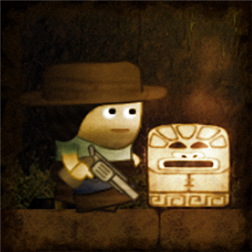 App of the day with myAppFree, don't miss your daily deal!
Alex, the grandson of Richard is an adventurer and treasure hunter.
He goes to the ancient Mayan City – Tikal, to find the lost golden masks of the kings. When he gets there, it turns out that the pyramids are inhabited by various creatures and strange guards resembling the ancient Mayans.
While entering the pyramids, the hero doesn't even suspect how hard it will be to leave them…
SPONSORED

Screenshot
Info
Publisher
Nagaka Studio Sebastian Sejud
Content rating
12+
Works with
Windows Phone 8
Windows Phone 7.5
App

requires
photo

, music and video libraries
HD720P (720×1280)
WVGA (480×800)
WXGA (768×1280)
SPONSORED