V1.6 Update :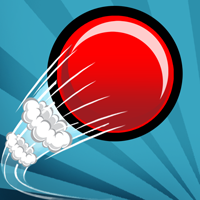 We are excited to bring you these new features :
– Added 10 new levels to Mastery pack. Now we have a total of 130 levels!
– Added Store section where you can pick from 5 different ball types to play within the game.
– Added News section, which allows you to games related news from us!
– Fixed the screen shake bug in Evolution level pack level 2.
A franchise played by more than 5 million people, now arrived at Windows Phone 7…
FastBall is back and is faster, fun and addictive than ever…
In FastBall, you control a rolling ball. In his way, there are many obstacles and his only ability is to jump. This is where he needs you, you'll make him jump by tapping the screen.
SPONSORED

With this simple mechanic, FastBall 2 contains 130 action packed levels spawned across 4 level packs. Through the levels, you'll need a good timing, pure attention as well as decisions on which path to follow to reach the level end.
It is easy to play and easy to enjoy….
Publisher
Klik! Games
Works with
Windows Phone 8
Windows Phone 7.5
Windows Phone 7
App

requires
owner

identity

photo

, music, and video libraries

data

services
WVGA (480×800)
HD720P (720×1280)
WXGA (768×1280)
SPONSORED