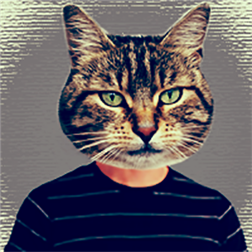 SPONSORED

Description
Take pictures of yourself and your friends, or choose from your gallery!
Insert head photos of funny, sad or evil animals, and share photos and mood with your friends!
* In free version is available only 15 animals.
* Ad in free version.
What's new in 1.0.4.0
– Added new animal faces
What's new in 1.0.3.0
– Added photo editor
– Added flip function for animal faces
What's new in 1.0.2.0
– Disable support for the front-camera. With this program is not installed on
phones without front camera.
– Added a page with information about the program.
– New splash screen.
– Add wide tile.
Screenshots
Info
Download size
8 MB
App requires
phone identity
owner identity
video and still capture
location services
photos library
media playback
data services
camera
HD720P (720×1280)
WVGA (480×800)
WXGA (768×1280)
Supported languages (8)
DeutschEnglishEnglish (United States)françaisitalianoрусскийTürkçe中文
SPONSORED