Attack of the Wall St. Titan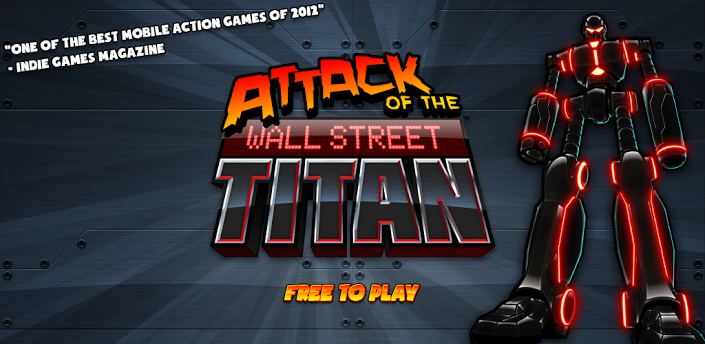 Description
Selected by Indie Game Magazine as one of the best mobile arcade games of 2012!Hit the score targets and remove all ads for FREE!
★ Physics based destruction
★ Tons of fun mini-objectives
★ Insane powerups
★ Hit all the score targets and remove all ads for free!
A giant robot, built to destroy and subjugate the masses. Reprogrammed by an anonymous hacktivist to turn on your evil corporate creators, you are the Wall Street Titan. Clash with the military, crush cars & tanks! Occupy Wall Street with a giant robot fist!
★★ What is the press saying? ★★
★ "…Wall Street Titan manages to be a deep arcade shoot 'em up that just happens to have a cool modern-day premise to boot."
Rating: 88/100, One of the best mobile action games of 2012
– Indie Game Magazine
SPONSORED

★ "…a quickfire, fun smash-em-up arcade game with a cracking graphic style and a darkly humorous political edge."
– GGSGamer.com
★ "…the addictive arcade style action and sheer amount of fun destruction … makes this free title worth checking out."
– SCI-FI-LONDON
★ "People, if we've learned anything from science fiction, it's that you don't build giant robots with the blind hope that you can control them. It never works out well for anyone."
– AppAdvice.com
★ "…like Burnout Crash with none of the initial Crash and all of the ensuing explosions."
– Hookshot, Inc.
★ "This game reinvents smash 'em up! GREAT stress reliever."
– 1Life2Play
★ "…prove your gaming skills, and disabled banner ads literally become your in-game reward."
– The Escapist
★★★ Leave a review and suggest things you'd like to see and squash! ★★★
Check us out on YouTube – http://www.youtube.com/darktonicgames
Aggregated device data, including location, may be measured for the purposes of market research by Placed, Inc.
Terms of Use: http://www.placed.com/terms-of-service
App Screenshots
Videos
What's New
What's in this version:
– V1.24 Fixes for Experia Z phone.
– V1.23 Bug fix to pause screen.
– V1.22 Bug fixes (stuck on pause screen).
– V1.21 Removed StartApp (and a big list of permissions) due to customer feedback. Changed from Chartboost ads to AppFlood (+1 external storage permission). +1 billing permission for future IAP framework.
– V1.20 HeyZap integrated to support leaderboards, achievements and social sharing. This is optional.
– V1.19 Permissions added to accommodate "StartApp", a opt-in search shortcut.
Permissions
THIS APPLICATION HAS ACCESS TO THE FOLLOWING:
NETWORK COMMUNICATION

FULL NETWORK ACCESS

Allows the app to create network sockets and use custom network protocols. The browser and other applications provide means to send data to the internet, so this permission is not required to send data to the internet.

STORAGE

MODIFY OR DELETE THE CONTENTS OF YOUR USB STORAGE

Allows the app to write to the USB storage.
NETWORK COMMUNICATION

VIEW NETWORK CONNECTIONS

Allows the app to view information about network connections such as which networks exist and are connected.

VIEW WI-FI CONNECTIONS

Allows the app to view information about Wi-Fi networking, such as whether Wi-Fi is enabled and name of connected Wi-Fi devices.

SYSTEM TOOLS

TEST ACCESS TO PROTECTED STORAGE

Allows the app to test a permission for USB storage that will be available on future devices.
VERSION:1.24
SIZE:52M
SPONSORED