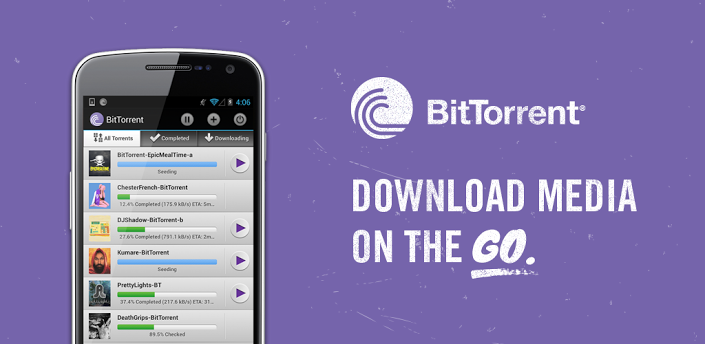 Description
Find torrents and download them directly to your phone or tablet, with the official BitTorrent® App for Android.Brought to you by the team that invented the BitTorrent protocol and BitTorrent software, this handy Android torrent app lets you get media wherever you are.
Find torrents and download them to your smartphone or tablet, subscribe to RSS feeds, play content, and more. The first generation of this powerful new torrent download app is made to be simple, fast, and free. That means no speed limits, and no size limits, on mobile downloads.
To get the best performance and avoid running up your data charges, we recommend taking advantage of Wifi-only mode whenever possible.
Features:
* No speed or size limits
* Wifi-only mode
* Search for content
* Access exclusive content from BitTorrent's featured artists
* Download torrents
* Manage torrent downloads
* Play media
* Share personal media
* Subscribe to RSS feeds
It's all super-fast, super-easy, and super-free
Make your Android device so much more fun
SPONSORED

Looking for answers to frequently asked questions (FAQ) or a guide to get started? Visit this page: http://bit.ly/15QqrIF
Support and feedback? [email protected], or visit the BitTorrent mobile forum athttp://bit.ly/XTKPEq
Feature suggestions? http://bit.ly/WgvTUu
By clicking "Install," I agree to the End User License Agreement terms athttp://www.bittorrent.com/legal/eula
User reviews:
★ "I would definitely recommend this app to anyone. It's probably the best torrent client for android."
★ "This is an awesome torrent. Even when I don't have a wifi connections and have poor service this is the only torrent that will pull through."
★ "Clean, easy to use, and gets the job done. Thanks."
★ "…keep up the good work guys!"
We really like this one 😉
★ "This is probably the best torrent downloader the world has ever seen…."
Your feedback is very important to us. Please email us directly if you have any problems or requests. Thank you in advance.
Looking for a remote control for your BitTorrent client on your home computer? Check out BitTorrent Remote for Android: http://bit.ly/WSxkFZ
–From the BitTorrent mobile team.
"Committed to building a sustainable future for content. For all."
Keywords: mobile downloads, android torrent, torrent android, torrent for android, mobile torrent, bittorrent, mTorrent, tTorrent, aTorrent, utorrent, torrent movies internet archive, legal mp4 mobile movies, m torrent, t torrent, u torrent, bit torrent, a torrent, adownloader, a downloader, bittorent, bitorrent, utorent, μTorrent, поток, перен, скачать торрент, download music public domain, download torrents, find torrents, youtorrent, you torrent, limitless torrent, uptorrent, up torrent
App Screenshots
What's New
What's in this version:
v1.22:
1. Fixed top bugs/crashes
v1.21:
1. Updated Core that addresses stability issues and bug fixes
v1.20:
1. Fixed crash introduced in v1.19
v1.19:
1. Fixes to the upgrade process
2. Improved stability across all Android versions
v1.17:
1. In-app purchases enabled for upgrades to Pro
previous history:
1. Improved stability
2. Fixed crashes on Android 2.1 and 2.2
3. Fixed top bugs/crashes
4. WiFi-only option -gives ability to opt to download while on WiFi networks only
Permissions
THIS APPLICATION HAS ACCESS TO THE FOLLOWING:
NETWORK COMMUNICATION

FULL NETWORK ACCESS

Allows the app to create network sockets and use custom network protocols. The browser and other applications provide means to send data to the internet, so this permission is not required to send data to the internet.

STORAGE

MODIFY OR DELETE THE CONTENTS OF YOUR USB STORAGE

Allows the app to write to the USB storage.
NETWORK COMMUNICATION

VIEW WI-FI CONNECTIONS

Allows the app to view information about Wi-Fi networking, such as whether Wi-Fi is enabled and name of connected Wi-Fi devices.

VIEW NETWORK CONNECTIONS

Allows the app to view information about network connections such as which networks exist and are connected.

SYSTEM TOOLS

TEST ACCESS TO PROTECTED STORAGE

Allows the app to test a permission for USB storage that will be available on future devices.

AFFECTS BATTERY

CONTROL VIBRATION

Allows the app to control the vibrator.

PREVENT DEVICE FROM SLEEPING

Allows the app to prevent the device from going to sleep.

YOUR APPLICATIONS INFORMATION

RUN AT STARTUP

Allows the app to have itself started as soon as the system has finished booting. This can make it take longer to start the device and allow the app to slow down the overall device by always running.
VERSION:1.22
SIZE:3M
SPONSORED