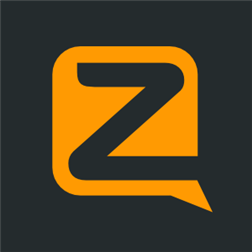 Description
Zello is the place for free live private and public conversations.
Join millions of people who use Zello instead of texting. You can use it one-on-one with a friend, for a live group call with your family or soccer team. The Zello app can even replace two-way radios at work.
Zello is the only place for live open group communication – old school CB Radio style. Create a live Zello channel for your forum or customers, or enjoy conversations from across the globe.
★ Free live voice over any network or Wi-Fi connection
★ See who's available or busy
★ Cross-platform
★ Free with no ads
Screenshots
Info
Download size
3 MB
SPONSORED

Works with
Windows Phone 8.1
Windows Phone 8
App requires
phone identity
location services
music library
photos library
media playback
microphone
data services
movement and directional sensor
VOIP calling
web browser component
HD720P (720×1280)
WVGA (480×800)
WXGA (768×1280)
SPONSORED
More Free Games & Apps Downloads: