Description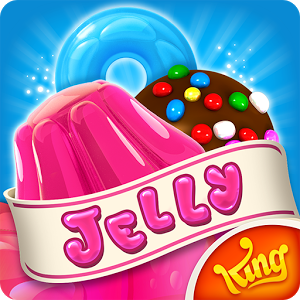 There's a new player in town, the wiggling, jiggling Jelly Queen and she's here to challenge you to a game of Candy Crush Jelly Saga! Whatever your favorite moves, you better hope they're Jellylicious enough to take on the mighty Jelly Queen.The unstoppably spreadable game! New Candy Crush Jelly Saga is full of delightful new game modes, features and boss battles featuring the Jelly Queen! Playing as Jenny, show off your Jellylicious moves and take turns switching Candies against the jiggling Jelly Queen. Every sweet move will spread more Jelly and whoever spreads the most will win the level! Have you got the moves?
There are splendid new Candies, a marvelous new booster and a dreamy treetop world to explore in the Candy Kingdom too!
Take on this delightful Saga alone or play with friends to see who can get the highest score!
SPONSORED

Candy Crush Jelly Saga is completely free to play but in-game currency, to buy items such as extra moves or lives, will require payment with real money.
By downloading this game you are agreeing to our terms of service; http://about.king.com/consumer-terms/terms
Candy Crush Jelly Saga features:
• Over 100 Jellylicious Levels
• New Jelly Queen Boss Modes
• Marvelous game modes including: Spread the Jelly & Release the Pufflers
• Tasty new Color Bomb Lollipop booster
• Mezmerizing new Candies
• Dreamy new treetop world and a host of quirky characters led by the Jelly Queen and her stooges.
• Easy and fun to play, yet challenging to fully master
• For players that Facebook Connect, there are leaderboards for you and your friends to compare your Jellylicious scores
• Easily sync the game between mobile and tablet devices and unlock the full game features when connected to the internet
Screenshots
What's New
Are you ready to reach the top? Climb up 20 dairy delicious levels in our NEW EPISODE, Ice Cream Alps!
Plus! We have a NEW BOSS! Meet the Jelly Queen's latest recruit, Liquorice Larry! He may look like a proper gentleman but beware, he is not to be trusted!
Please leave a review to let us know what you think!
Permission
Size: 44 MB
Version: 1.9.1
SPONSORED