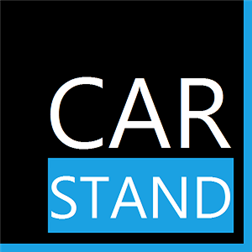 Description
CarStand is full featured dashboard application for your car.
SPONSORED

With CarStand you can easily program compatible NFC tags to start app automatically.
Update 1.2.1 includes:
•bug fixes
Update 1.2 includes:
•shuffle button
•saved locations separated from app shortcuts
•added shortcuts: HERE Drive, Nearby places (open nearby POIs in HERE maps), Screen rotation settings
•button to minimize application bar
•crash handling system to let user send reports after crash
•crash fix when location is on
•crash fix on opening detailed weather
•detailed weather opens on double tap or two finger tap
Features:
• Dashboard to see current time, location, three hour forecast, battery and now playing song.
• Assign up to four shortcuts to quickly launch apps and settings.**
• Add contacts from address book to quick dial list or dial number directly from within the app.
• Add your custom locations and navigate to them with one click.
• Open detailed forecast with two finger tap or double tap on display.
• Backgrounds change dynamically based on weather conditions.
• Media player buttons to control now playing.*
• Share current location.
• Full landscape support.
*Media player can control only built-in XBOX music app!
**Only apps that implement the interface for launching apps can be added to the list. If you want us to add app please contact us at [email protected] or send feedback from within CarStand app. We will contact the developer of the app and will ask if it can be added.
Screenshots
Info
Download size
3 MB
App requires
contacts
phone identity
owner identity
location services
maps
media playback
data services
Proximity
movement and directional sensor
HD720P (720×1280)
WVGA (480×800)
WXGA (768×1280)
SPONSORED
More Free Games & Apps Downloads: