WeatherSignal – sensor toolkit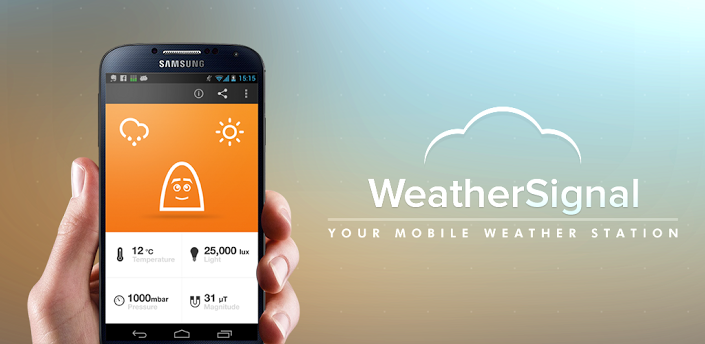 Description
WeatherSignal lets you monitor all the sensors on your device, turing your phone into a tricorder, or mobile science kit. Particularly powerful for users of the Galaxy S4, but working on 1000's of devices – see what your phone can do!*Thermometer readings are experimental!*
The app makes use of native phone sensors to display local atmospheric readings, which are then displayed on our live-updating weather map. By using WeatherSignal you are becoming a part of the most ambitious weather crowdsourcing project in the world – helping to record weather patterns on a more localised level than ever before.
Features:
* Readout for all the sensors on your device (think Tricorder – but real!)
* Widgets for temperature, magnetic, light, humidity and pressure sensors (if you have them)
* Save all data to CSV on your SD card – play with it however you like
* Map of readings of other users and of your own, see averages within each map window, click on icons to see full readout
* Manual reports
* Tonnes of graphs (for geeks like us :))
* Contribute to our maps (you can turn off sharing in settings)
*** This app is experimental! Readings from sensors may be faulty, we are developing ways of filtering and correcting this. In particular, individual TEMPERATURE readings may be incorrect, but when averaged over many users we get reliable information for our community powered maps. ***
Android phones are increasingly being equipped with a sophisticated array of sensors and the WeatherSignal app is designed to help you make use of them. What the app can display depends on what model of phone you have and how many sensors it has. The app works best on the Galaxy S4 (as that phone has the most sensors) but has functionality on most Android devices.
The WeatherSignal app can measure:
* Pressure (certain devices only)
* Temperature (see note below)
* Light Intensity
* Humidity (Galaxy S4 only)
* Magnetic Flux
* Acceleration (you'll need to turn this on in the application settings)
You can see graphs of all these values live or over time.
This app is also one of the first to feature Google's Activity Recognition: monitor when you're walking, in vehicle, on a bicycle. You can save the results to CSV and perform your own analysis, for example for quantified self tracking
*** NOTE ON TEMPERATURE READINGS ***
SPONSORED

We've come up with an algorithm that can translate battery temperature into ambient temperature. For each user this can sometimes be a bit approximate but we've discovered that there is a very strong correlation between battery and ambient temperature when spread over a crowd of users. If you are using a cell phone without an external thermometer then the temperature reading you'll see is a battery temperature reading converted through our algorithm. Often the algorithm will get it wrong, however we've shown in a research project with meteorologists, that with appropriate averaging and filtering, these readings correlate extremely well with external ambient air temperature.
The Galaxy S4 which has an ambient air temperature may also produce incorrect readings – if the phone is hot (perhaps because it's been in your pocket or has been charging or intensively used) then the readings will be higher than the ambient environmental air temperature.
*** PRESSURE ****
Devices that contain barometers include:
Galaxy Nexus
Galaxy S3
Galaxy S4
Galaxy Note
Galaxy Note II
Nexus 4
Nexus 10
Xoom
RAZR MAXX HD
Xiaomi MI-2
Units available:
millibars/hPa inches of mercury aka "Hg or inchees H
centigrade/celsius and Fahrenheit
You might also be searching for: lux meter, lightmeter, light meter, magnetometer, hygrometer, accelerometer, thermometer … if your phone has it, WeatherSignal reads it, graphs it, saves it.
(weather signal, opensignal, open signal)
App Screenshots
Videos
What's New
What's in this version:
2.1 First improvements to temperature algorithm for devices without ambient air temeprature sensors.
Bug fixes for tablets
1.8:
Activity Recognition added! Use this for Quantified Self purposes – examine your sensor data by activity: walking, biking, in-vehicle.
Optimizations for small screens.
Option to rebase acceleration readings to remove gravity (default is on)
Graphs now converted to fahrenheit when fahrenheit is set.
Enjoy!
Permissions
THIS APPLICATION HAS ACCESS TO THE FOLLOWING:
YOUR LOCATION

APPROXIMATE LOCATION (NETWORK-BASED)

Allows the app to get your approximate location. This location is derived by location services using network location sources such as cell towers and Wi-Fi. These location services must be turned on and available to your device for the app to use them. Apps may use this to determine approximately where you are.

PRECISE LOCATION (GPS AND NETWORK-BASED)

Allows the app to get your precise location using the Global Positioning System (GPS) or network location sources such as cell towers and Wi-Fi. These location services must be turned on and available to your device for the app to use them. Apps may use this to determine where you are, and may consume additional battery power.

NETWORK COMMUNICATION

FULL NETWORK ACCESS

Allows the app to create network sockets and use custom network protocols. The browser and other applications provide means to send data to the internet, so this permission is not required to send data to the internet.

CONNECT AND DISCONNECT FROM WI-FI

Allows the app to connect to and disconnect from Wi-Fi access points and to make changes to device configuration for Wi-Fi networks.

PHONE CALLS

READ PHONE STATUS AND IDENTITY

Allows the app to access the phone features of the device. This permission allows the app to determine the phone number and device IDs, whether a call is active, and the remote number connected by a call.

STORAGE

MODIFY OR DELETE THE CONTENTS OF YOUR USB STORAGE

Allows the app to write to the USB storage.
YOUR ACCOUNTS

READ GOOGLE SERVICE CONFIGURATION

Allows this app to read Google service configuration data.

NETWORK COMMUNICATION

VIEW NETWORK CONNECTIONS

Allows the app to view information about network connections such as which networks exist and are connected.

VIEW WI-FI CONNECTIONS

Allows the app to view information about Wi-Fi networking, such as whether Wi-Fi is enabled and name of connected Wi-Fi devices.

SYSTEM TOOLS

MODIFY SYSTEM SETTINGS

Allows the app to modify the system's settings data. Malicious apps may corrupt your system's configuration.

TEST ACCESS TO PROTECTED STORAGE

Allows the app to test a permission for USB storage that will be available on future devices.

AFFECTS BATTERY

CONTROL VIBRATION

Allows the app to control the vibrator.

YOUR APPLICATIONS INFORMATION

RUN AT STARTUP

Allows the app to have itself started as soon as the system has finished booting. This can make it take longer to start the device and allow the app to slow down the overall device by always running.
VERSION:2.1
SIZE:1.2M
SPONSORED