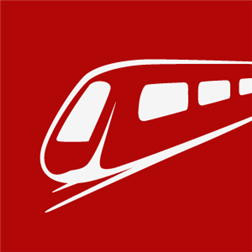 Description
With more than 75 thousand users on iOS and Android App Store, FINOIT TECHNOLOGIES is pleased to bring "Delhi-NCR Metro" on Windows Store as well. It is an effort to append convenience and flexibility to National/International tourists and proud Delhiites by providing essential information related to Delhi Metro System as well as of Delhi. It is an offline application, which once installed, provides all the information of Delhi Metro and much more. It has been designed with a very user centric approach, with some of the most updated features.
SPONSORED

Main features
• Route Search – Provides fare information between two station, total time, number of stops, and number of switches between the intermediate stations.
• Displays multiple possible paths to reach destination location.
• Route search results on Nokia Maps and individual station information.
• Categorically segregated list of important places of Delhi e.g. Hospitals, Malls, Tourist & Religious places.
• Information of all the lines, individual stations, first train timings, feeder bus service information, exit gates information, parking, lift, elevator facilities information etc.
• An offline application with advanced features which works magic while online e.g. Search stations "By Address" using Nokia Maps.
• Application provides "Search Nearby" functionality which gives nearest metro stations using your current location from GPS.
• Details related to Lines, Metro stations, Tokens, Smart cards and other type of cards have been updated.
Support
We are dedicated to keep it updated, and your participation/feedback is most welcomed to make the App more user-friendly. Please write to us on [email protected] with your feedback. Suggest us places which are important and should be included in the next version of App.
And if you like our app then kindly rate your experience on the market.
We hope you will enjoy using "Delhi-NCR Metro".
Screenshots
Info
Download size
7 MB
App requires
phone identity
location services
maps
data services
movement and directional sensor
HD720P (720×1280)
WVGA (480×800)
WXGA (768×1280)
SPONSORED
More Free Games & Apps Downloads: