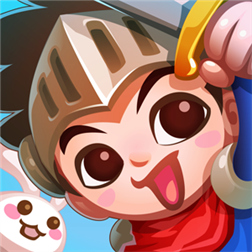 Description
HEROES WANTED! Our once magnificent town has been destroyed by terrifying monsters and bone-chilling beasts! Please help us return our town to its former glory, and we will reward you handsomely. Place tempting new shops and houses in the town to attract mighty heroes in search of adventure, then customize the heroes and make them the greatest fighting legends in history! Only YOU can make our world great once more and save us from the evil forces of darkness!
Adventure Town Game Features:
• FREE TO PLAY!
• Build shops, houses and decorations to create your own unique town!
• Attract heroes that can be highly customized and strengthened (like a boss!)
• Fend off deadly monster attacks; anything can happen in this strange land!
• Explore the Desert, Grassland, Volcano and Waterfall regions in your monster-bashing campaigns!
• Fight Lord Darkness and his mega-evil Bosses in epic encounters which will shake the very foundations of your city!
• Quests and a Bounty Board provide continuous challenges and exciting rewards!
• Compare progress against friends with full achievements and a leaderboard to battle for top position!
SPONSORED

Screenshots
Info
Download size
40 MB
App requires
phone identity
media playback
data services
push notification service
movement and directional sensor
HD720P (720×1280)
WVGA (480×800)
WXGA (768×1280)
Supported languages (14)
danskDeutschEnglishEnglish (United States)españolfrançaisitaliano日本語한국어português (Brasil)Türkçe中文中文(简体)中文(繁體)
SPONSORED