DigiCal Calendar & Widgets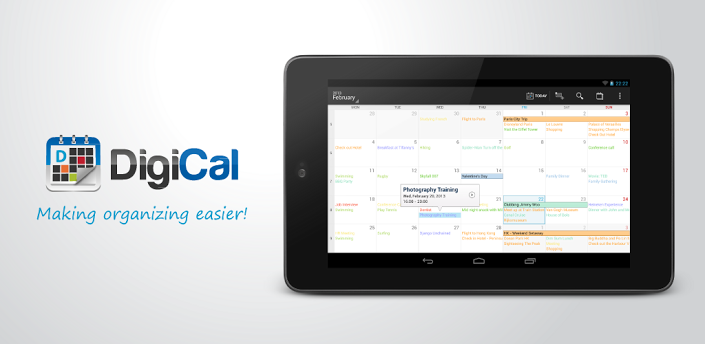 Description
Experience the most stylish Android calendar with Holo light and dark themes with 6 powerful calendar views and 5 beautifully designed widgets!
★"It's beautiful, functional, and wrapped in an easy to read, clean design." Holo Everywhere
★"DigiCal takes it to the next level with some really nice enhancements" – Talk Android
★"The widgets are really fantastic and work brilliantly on phones." – Android Headlines
★"One of the easiest-to-use calendar apps"- Appszoom
DigiCal is a stylish and easy to use calendar application that syncs all your appointment with Google Calendar. You can choose from 6 powerful calendar views (day, week, agenda, month, text month and list) in both portrait and landscape mode. DigiCal also comes with 5 beautiful widgets (list, grid, day, day list and month). Following the latest Android Holo light and dark theme, DigiCal is bringing the clean and intuitive user interface experience to smartphones and tablets running Android 2.2+.
DigiCal's innovative features such as the smart action bar make it easy to edit, move, copy, paste and delete events. With our unique built-in location search, adding a location to your event has never been easier. All you need to do is type in the name of the place (cafe, store, and park) and DigiCal will automatically look up the address and save it. With this feature, Google Now (Android 4.1+) knows where you'll need to go. It'll watch current traffic, plan your route and notify you when you should leave.
Key features:
✓ Stylish and intuitive user interface in Holo dark and light theme
✓ 6 unique calendar views (day, week, agenda, month, text month and list)
✓ 5 beautiful and fully customizable widgets (list, grid, day, day list and month)
✓ Built-in location search via Google Places for quickly adding locations to your events
✓ Google Now (Android 4.1+) support, notifying you when it's time to leave by planning your route, checking traffic and calculating your travel time
✓ Improved notifications with shortcuts for snooze, map and navigation
✓ Smart action bar for quick editing, moving, copying, pasting and deleting events
✓ Event pop-up makes it easy to go through your individual events
✓ Gestures like pinch to zoom and swipe to navigate are supported
✓ Fully compatible with any device running Android 2.2+
SPONSORED

DigiCal+ premium features:
★ Beautiful month widget
★ Extra widget configuration options: background transparency and custom font sizes
★ Unique color picker: custom background colors for all the widgets.
★ Custom text color for all widgets
★ Ads free
If you need help or want to give us some feedback, feel free to contact us at[email protected]. For tutorials and FAQ: (https://digibites.zendesk.com).
App Screenshots
Videos
What's New
What's in this version:
Note for AVG users: Please update to AVG version 3.1.3, this should take care of the false positive issue. See http://goo.gl/wy8dh for details.
What's new in 0.8.3:
– New languages: Română, Suomi, 한국어, 日本語
– Greatly improved location search with Google Places, requires coarse location permission
– (DigiCal+) Added custom widget font color and custom list widget colors
Permissions
THIS APPLICATION HAS ACCESS TO THE FOLLOWING:
YOUR LOCATION

APPROXIMATE LOCATION (NETWORK-BASED)

Allows the app to get your approximate location. This location is derived by location services using network location sources such as cell towers and Wi-Fi. These location services must be turned on and available to your device for the app to use them. Apps may use this to determine approximately where you are.

NETWORK COMMUNICATION

FULL NETWORK ACCESS

Allows the app to create network sockets and use custom network protocols. The browser and other applications provide means to send data to the internet, so this permission is not required to send data to the internet.

YOUR PERSONAL INFORMATION

READ CALENDAR EVENTS PLUS CONFIDENTIAL INFORMATION

Allows the app to read all calendar events stored on your device, including those of friends or co-workers. This may allow the app to share or save your calendar data, regardless of confidentiality or sensitivity.

ADD OR MODIFY CALENDAR EVENTS AND SEND EMAIL TO GUESTS WITHOUT OWNERS' KNOWLEDGE

Allows the app to add, remove, change events that you can modify on your device, including those of friends or co-workers. This may allow the app to send messages that appear to come from calendar owners, or modify events without the owners' knowledge.

YOUR SOCIAL INFORMATION

READ YOUR CONTACTS

Allows the app to read data about your contacts stored on your device, including the frequency with which you've called, emailed, or communicated in other ways with specific individuals. This permission allows apps to save your contact data, and malicious apps may share contact data without your knowledge.
NETWORK COMMUNICATION

GOOGLE PLAY LICENSE CHECK

Google Play license check

VIEW NETWORK CONNECTIONS

Allows the app to view information about network connections such as which networks exist and are connected.

AFFECTS BATTERY

CONTROL VIBRATION

Allows the app to control the vibrator.
VERSION:0.8.3
SIZE:2.6M
SPONSORED