Boomerang: Email App for Gmail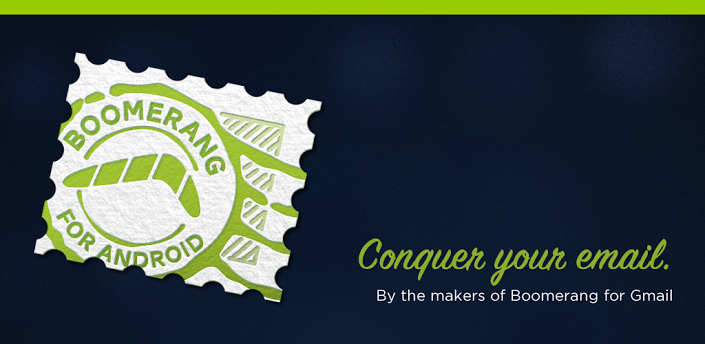 Description
Meet Boomerang, the most powerful email app for Android. Currently integrates with Gmail and Google Apps accounts ONLY (other services coming soon!)Featuring advanced functionality like snoozing emails, scheduling email for later, response tracking, and more, Boomerang is the mail client you've been dreaming about. These features, combined with an intuitive gesture system and eye-catching design, make Boomerang the best way to access your Gmail messages on your phone.
– Search through all your messages across all Gmail folders
– Access to all labels
– Integration with your phone contacts for auto-complete
– Multi-account support with easy account switching
– Email signatures
– Customizable intuitive multi-gesture support
– View and Include Attachments
– Infinite scrolling in Inbox
– Auto-complete email addresses as you type
– Snooze email messages
– Schedule messages to be sent later
– Track responses to the emails you send
——- FAQs ——-
What email providers can I use with Boomerang?
Right now, Boomerang only works with Gmail and Google Apps accounts. We are working on support for Exchange/Outlook, Yahoo, and other providers, but for now, Boomerang is compatible with Gmail and Google Apps accounts.
Can I use Boomerang with my Google Apps email address?
Absolutely, you can use Boomerang with Google Apps accounts. Just install the app and sign in with your Google Apps email address, and everything should work. If you have trouble, please email us and we will help you configure your Google Apps settings to work correctly with the app.
SPONSORED

How is Boomerang different than the Gmail app?
The Boomerang app is more powerful than the included Gmail app. It provides features that the Gmail app does not. Additional features that Boomerang has:
• snooze email messages
• schedule messages to be sent later
• track responses to your emails
• use advanced gestures in Inbox view
Is Boomerang localized for non-English languages?
Not yet. Please visit our suggestion forum and let us know which languages we need to add!http://boomerangandroid.uservoice.com
—— Upcoming Features & Known Issues ——-
• Push notifications
• Multi-select messages/Bulk select messages
• Ability to view and edit drafts
• Exchange Support
• IMAP (Yahoo Mail, Rackspace, etc) support
• Offline support
• Tablet optimized layout
>>> If you want to suggest new features, improvements or report existing bugs and issues, please go to http://boomerangandroid.uservoice.com <<<
—— Testimonials ——-
"This is the best mail app I've ever used, ever!!"
– Albert Einstein
"So much power. So much beauty! Like a POWER DRILL WITH A DIAMOND BIT!"
– Mark Twain
"I wanted only the best email client for my android mail. And by Jove, I've finally got it!"
– Catherine the Great
"5/5 – hands down the most revolutionary mobile e-mail experience we've ever seen."
– The Atlantis Advocate
Note: We ARE NOT affiliated with or endorsed by Gmail or Google, though we are glad to be part of their ecosystem!
keywords:
email, gmail, e-mail, google apps email, gmail app, schedule email, send email later, snooze messages, track responses, email client, gmail client, swipe gestures, inbox management, productivity email, advanced gmail, best email client, customizable gestures, inbox zero, mailbox for android, mailbox snooze, email reminders, follow-up emails, keep track of emails, e-mail application, email reminder app, reminders app, schedule emails later, snooze emails from inbox, gmail app free, email manager, boomerang gmail, follow up reminders, email apps, productivity
App Screenshots
Videos
What's New
What's in this version:
0.6.1
Speed and stability improvements. Thank you for reporting bugs and helping us make the app better!
0.5
Initial release.
Permissions
THIS APPLICATION HAS ACCESS TO THE FOLLOWING:
NETWORK COMMUNICATION

FULL NETWORK ACCESS

Allows the app to create network sockets and use custom network protocols. The browser and other applications provide means to send data to the internet, so this permission is not required to send data to the internet.

STORAGE

MODIFY OR DELETE THE CONTENTS OF YOUR USB STORAGE

Allows the app to write to the USB storage.

YOUR SOCIAL INFORMATION

READ YOUR CONTACTS

Allows the app to read data about your contacts stored on your device, including the frequency with which you've called, emailed, or communicated in other ways with specific individuals. This permission allows apps to save your contact data, and malicious apps may share contact data without your knowledge.
YOUR ACCOUNTS

FIND ACCOUNTS ON THE DEVICE

Allows the app to get the list of accounts known by the device. This may include any accounts created by applications you have installed.

SYSTEM TOOLS

TEST ACCESS TO PROTECTED STORAGE

Allows the app to test a permission for USB storage that will be available on future devices.
VERSION:0.6.1
SIZE:4.7M
SPONSORED