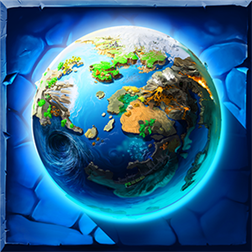 Description
The Power of Creation is in Your Hands!
SPONSORED

For the first time ever see your creations come to life on your planet. As you create skyscrapers, aliens and more each new element is visually represented on your planet. In this addictive, ALL ages, puzzle game 
mix and match different elements to create an entire universe. Start with the four basic elements,
fire, earth, wind and air to create animals, tools, planes, pyramids…. over 300 elements in all to create!
But get ready for a challenge…the universe was not created in one day.
Winphone Exclusive!
NEW FEATURES
✔ Now available in 13 languages: English, Dutch, French, Spain, Italian, Russian, Japanese, Chinese, Korean, Portuguese, Swedish, Polish & German.
✔ NEW HD graphics.
✔ New UI and in-game graphics.
✔ New "Puzzle" mode. 
Create locomotives, sky scrappers and more.
✔ New "Quests" mode. Can you save the Princess or escape a Desert Island?
✔ New 20th Century Greatest Inventions. Inventions for every decade of 20th century.
✔ New artifacts. Collect special collectible artifacts created by amazing triple reactions.
✔ New reactions with existing elements and episodes.
✔ New achievements.
✔ New Elements encyclopedia with wikipedia links.
✔ Mold fire, wind, earth and air to create the Universe.
✔ Create 300+ advanced items and concepts.
✔ Intuitive one-click game play encourages thoughtful, creative play 
.
✔ Hundreds of interesting, funny and thought-provoking quotes and sayings.
Screenshots
Info
Works with
Windows Phone 8.1
Windows Phone 8
App requires
phone identity
owner identity
music library
photos library
media playback
data services
phone dialer
push notification service
web browser component
HD720P (720×1280)
WVGA (480×800)
WXGA (768×1280)
Supported languages (13)
DeutschEnglish (United States)Español (España, alfabetización internacional)françaisitaliano日本語한국어Nederlandspolskiportuguês (Brasil)русскийsvenska中文(简体)
SPONSORED