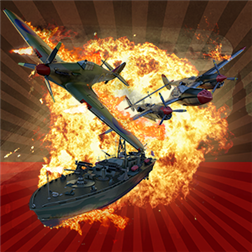 NEW TYPES OF CONTROLS – new and really great DRAG!!!, TILT and old known JOYSTICK
ALL LEVELS FOR FREE!!!
BETTER GAMEPLAY, NEW ONLINE MULTIPLATFORM LEADERBOARDS !!! (V1.1.0.0)
An action game which will take you to the period of air fights during the World War Two.
The campaign will lead you from the Battle of France through the Battle of Britain, fighting in North Africa, the Pacific naval battles to the D-Day and fights in the enemy´s inland.
You will gradually appear in the role of English fighter pilots, American sailors on the torpedo boat in the Pacific, where you will also meet the feared kamikaze. You will also appear in the Atlantic, where you will fight against the dangerous U-Boats. Your another role will be a USAF fighter hunting for bombers over the Alps and finally you will experience flying the RAF bomber.
During your missions you will also encounter several of the secret weapons of your enemy, who is not going to surrender easily.
SPONSORED

Features:
10 great missions
5 different player´s entities
10 end level bosses
Over 40 different kinds of enemies in the air, on land and water
Additional bonus missions, new bosses, player entities and enemies in free updates!
Upgrades and special weapons
Campaign mode (from the beginning of the war till the end)
Replay mission mode (you can play your favorite mission whenever you want or just improve your score, skills or your pilot´s career)
Large achievements system
Career promotion (from the Airman to the General)
On-line score and 46 achievements, you can compare your score with your friends on different platforms!
Screenshot
Info
Publisher
rendeo s.r.o.
Content rating
EVERYONE
Works with
Windows Phone 8
Windows Phone 7.5
App

requires
phone

identity

owner

identity

location

services

photo

, music, and video libraries

data

services

movement

and directional sensor
HD720P (720×1280)
WVGA (480×800)
WXGA (768×1280)
SPONSORED