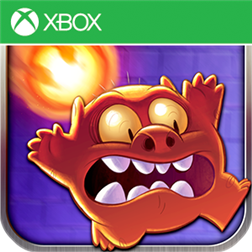 Throw fireballs and draw firewalls! – Monster Burner combines frantic arcade pace with fun strategic puzzles. This all-new game concept will get you fired up as you protect castles by blasting invading hordes of monsters with ferocious fire spells. Pick up coins to equip yourself with more powerful spells to annihilate ever more dangerous monsters in increasingly extreme environments. With each game lasting just minutes, you can pick up and play whenever you want – and finish whenever you can tear yourself away!
SPONSORED

GOLD-THIRSTY MONSTERS – The gold reserves of your county's castles are under threat from invading monsters. Fortunately, a wise old man has taught you some handy fire spells to blast them away. Be careful not to hit stray princesses, who may run onto the battlefield in a fit of hysteria. And listen closely to the genie, who will offer up valuable advice.
INTUITIVE GAMEPLAY – The gameplay has been designed to be as simple and intuitive as possible – which means you're ready to start burning monsters right now! Within no time at all, you'll find it feels normal to have the power of fire directly in your fingertips.
BUY FEROCIOUS SPELLS – By picking up coins, you can buy new spells. Conjure up a whole wall of fire or create ultra-ferocious fireballs, capable of destroying monsters en masse! Increase your powers to meet the game's new challenges.
CHILDREN'S MODE – Monster Burner is not just for adults! We've included a special mode for kids, offering up simpler challenges – but with the same intuitive gameplay and high-paced action.
Screenshot
Info
Publisher
Ubisoft
Works with
Windows Phone 8
Windows Phone 7.5
App

requires
Xbox

phone

identity

owner

identity

photo

, music, and video libraries

data

services
HD720P (720×1280)
WVGA (480×800)
WXGA (768×1280)
Supported languages (10)
DeutschEnglishespañolfrançaisitaliano日本語한국어português (Brasil)русский中文(简体)
SPONSORED