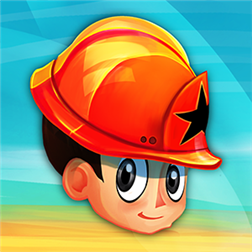 Description
Fire Alert ! In this new game, become a brave fireman whose role is to save the animals from the flames. While doing so, you may also be able to find some treasures…..
You will be supplied with a water hose and a super jetpack. But be careful, you will need to keep an eye on your water supply, all the while putting out fires and battling different enemies.
It's a lot of pressure but with some unexpected allies coming to help, we know you will succeed !
– Guide the fearless fireman through numerous challenges
– Fight fires in more than 50 different levels
– Better your equipment with our online boutique
– Find hidden objects
– Have fun controlling the water hose and your super jetpack
Download this free game now !
Screenshots
Info
File weight
13 MB
Content rating
Last updated
10/03/2014
SPONSORED

Works with
Windows Phone 8.1
Windows Phone 8
App requires
phone identity
owner identity
music library
photos library
media playback
data services
phone dialer
movement and directional sensor
web browser component
HD720P (720×1280)
WVGA (480×800)
WXGA (768×1280)
Supported languages (30)
danskDeutschΕλληνικάEnglishEnglish (India)English (United States)españolEspañolEspañol (España, alfabetización internacional)español (México)suomifrançaismagyarBahasa Indonesiaitaliano日本語한국어norsk (bokmål)NederlandspolskiPortuguêsportuguês (Brasil)português (Portugal)românăрусскийsvenskaTürkçe中文中文(简体)中文(繁體)
SPONSORED