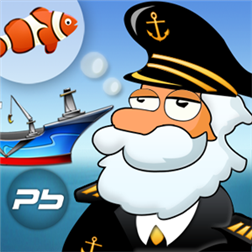 Description
The sky is blue, the sea is too…
No sign of land, what should we do?
The sea seems so FISHILECIOUS…lets start fishing &
Give a treat to the Hungry Crew.
There are big fish…there are small fish…
Which harpoon would u choose???
Don't strike the tortoise!!!
Else you lose!!!
Ahoy Captain!!
Your crew is starving for days. Save your mates by catching as many fishes as you can. You have the most powerful harpoons in store to spear your fish.
This game brings to you:
• Amazing backdrop & Immersive sound effects: Get caught in this quick and super addictive harpoon fishing as sea full of beautiful juicy fishes tempts you!
SPONSORED

• Insanely addictive: With gameplay that keep you soaked in, you would hate to stop fishing.
So what are you waiting for.. Gear up to save your HUNGRY CREW !!
Screenshots
Info
Download size
17 MB
App requires
phone identity
owner identity
photos library
media playback
data services
movement and directional sensor
HD720P (720×1280)
WVGA (480×800)
WXGA (768×1280)
SPONSORED