Description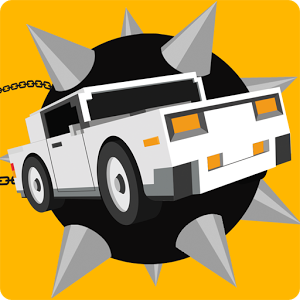 Blow EVERYTHING up with a giant flail attached to your vehicle! Flail Rider is a colorful, fast-paced, top down arcade racing game. Drive, drift, destroy and warp from one area to another. The more environment destroyed with your spiked ball, the higher the score!
Collect coins to unlock new vehicles: Tank, Monster Truck, Tuk-Tuk, Hotrod or the Catmobile to name a few of the 50 cars available! Vehicles are spread in 3 classes: Small, Medium and Large. Small vehicles are easier to handle but equipped with smaller flails while larger rides are trickier to steer but geared up with larger flails.
Smash everything and beat your friends highscores in the online leaderboards!
SPONSORED

FEATURES
– Simple yet innovative gameplay
– 50 vehicles spread in 3 classes
– 3 locations to wreck – City / Desert / Snowland
– Crazy power-ups – Laser / Freeze / Big Flail / Boost
– Striking voxel graphics
– Playable in both portrait and landscape
– Leaderboards and Achievements
Screenshots
Permission
Version 1.0.0 can access:
find accounts on the device
find accounts on the device
modify or delete the contents of your USB storage
read the contents of your USB storage
modify or delete the contents of your USB storage
read the contents of your USB storage
receive data from Internet
full network access
view network connections
prevent device from sleeping
control vibration
read Google service configuration
use accounts on the device
Size: 34 MB
Version: 1.0.0
SPONSORED