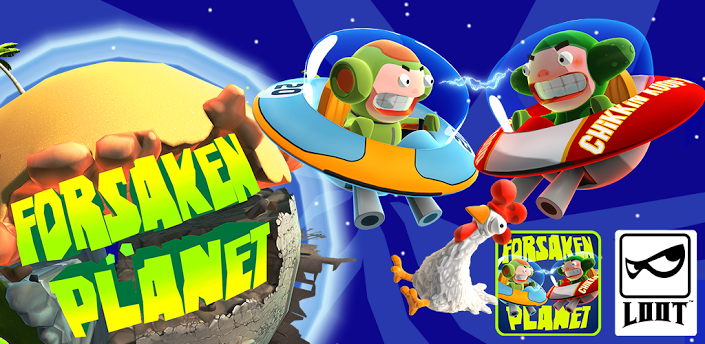 SPONSORED

Description
Battle it out to become "Employee of The Month" at the Galaxy's #1 fast food chain, all while collecting as much Chikkin as possible to save your business and…your life!Forsaken Planet is a challenging, cross-platform multiplayer fast-paced action/strategy game catering to gamers of all ages and expertise. Controls are fully customizable and support touch or Bluetooth enabled game controller. With over 100 items available from the in-game store, you can customize your character to fit your gameplay style. As you rank up your character, you unlock secret items which greatly enhance your character's abilities. You decide if you want to play fast and furious or armor up in order to control the map as a juggernaut!
NOTES: Guest accounts are now available for those who want to try the game before creating a full account. Please note that we will NEVER spam you or sell your information. Your privacy is very important to us! Please consider upgrading to a full account, as it provides the following advantages to you: – Earn bonuses and free items for leveling up or progressing through the game! – Save your progress and XP gains, and access them from any PC or Android device when playing Forsaken Planet. – Buy upgrades for your avatar in the Forsaken Planet store. Fly faster, hit harder, look better than your enemies! – Your own custom username. – Keep track of your stats and scores on our leaderboards, and compare against your friends. – Much more to come… You can't do any of that without an account, so make one today!
Available In The Following Languages: English, French, Italian, German, Spanish and Portuguese.
Please note that this is an early BETA build. We encourage all players to help us improve the game by providing feedback and reporting bugs on our forums, located at:
App Screenshots
Videos
What's New
What's in this version:
– Fixed issues with Google Play purchases on devices running Android 4.2 and up
– Fixed issues with Facebook login
– Altered camera to give better situational awareness
– Various small bug fixes
Permissions
THIS APPLICATION HAS ACCESS TO THE FOLLOWING:
YOUR LOCATION

PRECISE LOCATION (GPS AND NETWORK-BASED)

Allows the app to get your precise location using the Global Positioning System (GPS) or network location sources such as cell towers and Wi-Fi. These location services must be turned on and available to your device for the app to use them. Apps may use this to determine where you are, and may consume additional battery power.

NETWORK COMMUNICATION

FULL NETWORK ACCESS

Allows the app to create network sockets and use custom network protocols. The browser and other applications provide means to send data to the internet, so this permission is not required to send data to the internet.

PHONE CALLS

READ PHONE STATUS AND IDENTITY

Allows the app to access the phone features of the device. This permission allows the app to determine the phone number and device IDs, whether a call is active, and the remote number connected by a call.

STORAGE

MODIFY OR DELETE THE CONTENTS OF YOUR USB STORAGE

Allows the app to write to the USB storage.
NETWORK COMMUNICATION

GOOGLE PLAY LICENSE CHECK

Google Play license check

VIEW NETWORK CONNECTIONS

Allows the app to view information about network connections such as which networks exist and are connected.

VIEW WI-FI CONNECTIONS

Allows the app to view information about Wi-Fi networking, such as whether Wi-Fi is enabled and name of connected Wi-Fi devices.

SYSTEM TOOLS

TEST ACCESS TO PROTECTED STORAGE

Allows the app to test a permission for USB storage that will be available on future devices.

AFFECTS BATTERY

PREVENT DEVICE FROM SLEEPING

Allows the app to prevent the device from going to sleep.
VERSION:0.93.1.4
SIZE:11M
SPONSORED