Description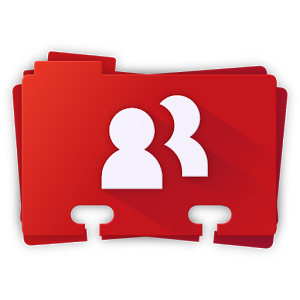 Tap into the power of FullContact from your Android device to easily access the contact information and insights you need to make connections on the go.
FullContact lets you:
* Import and sync contact information with up to 5 Gmail and iCloud accounts so you can stay focused on relationships from anywhere.
* Add social profiles to your contacts to get the complete picture on everyone you know.
* Swipe or tap a contact to initiate a text, call, or email, and enter notes, tags, and updates anywhere you go to make a connection.
* Make a change on your device, and see it reflected on all your other address books. Your connections are always in sync.
——————–
▸ WHY FULLCONTACT?
*All your contacts in one place.*
Combine Google Contacts, Phone Contacts, and social media accounts to get a complete view of your contacts.
*Add context to your contacts*
Turn each partial contact into a full contact by automatically adding photos and social profiles. See company info and recent tweets. Always know who you're talking to.
*Keep contacts organized*
Add tags to keep groups of contacts organized for easy searching.
*Say goodbye to duplicates*
Automatically merge duplicate contacts and save yourself the hassle of wondering which entry is correct.
*Get in touch*
Call, email or view the social profiles of your contacts with just a tap or a swipe.
*Sync across all devices*
Make a change in one place — see it reflected in Gmail, FullContact for Web, and your Android device contacts.
▸ FEATURES
* Sync Google Contacts, Android Contacts, and social media accounts
* Automatically add photos & social accounts to your contacts
* Turn partial contacts into full contacts
* See recent Tweets and Instagram posts
* Add tags and notes to organize contacts
* Automatically merge duplicates
* Backup your contacts to the cloud for safekeeping
* Move contacts between iPhone and Android
▸ PRICING
SPONSORED

FullContact is free to download and use. FullContact Premium is available by subscription and improves on the great features above.
Two subscription options:
– FullContact Premium monthly for $9.99
– FullContact Premium annually for $99.99
Price may vary by location. Subscriptions will be charged to your credit card through your Google Play account. Your subscription will automatically renew unless cancelled at least 24 hours before the end of the current period. You will not be able to cancel the subscription once activated. Manage your subscriptions in Account Settings after purchase.
▸ DEVICE REQUIREMENTS
* Requires Android version 4.1 (Jelly Bean) or later
▸ PRIVACY & TERMS OF SERVICE
Your privacy is of utmost importance to us, and we will never betray it. For more information, please visit our privacy policy.
Privacy:
https://www.fullcontact.com/privacy/
Terms of Use:
https://www.fullcontact.com/terms/
▸ QUESTIONS?
Got questions? Email us at [email protected]!
Screenshots
What's New
Bug fixes and improvements
Permission
Version 1.1.2 can access:
read sensitive log data
retrieve running apps
find accounts on the device
find accounts on the device
directly call phone numbers
modify or delete the contents of your USB storage
read the contents of your USB storage
modify or delete the contents of your USB storage
read the contents of your USB storage
manage document storage
full network access
view network connections
Size: 12 MB
Version: 1.1.0
SPONSORED