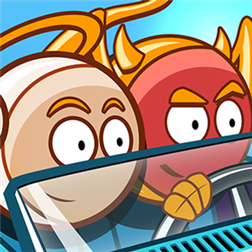 SPONSORED

Description
*** Traffic Control Game with Save and Crash Modes. Completely Free. ***
You are in control of traffic rushing into the intersection. The cars are coming fast. Which ones to accelerate? Which ones to stop? When things look all but impossible, the bulldozer shows up…
Depending on the game mode, you will either save the cars or crash them. You can try your driving skills on 14 different intersections. Discover and collect new cars as you progress: racing cars, vehicles with special powers, vintage car and more. Way more.
So, what do you feel like today: Save or Crash?
* Back story *
The Guardian Angel and the Devil's Advocate rarely agree on anything but this time they've agreed to get rid of Traffic, though their methods are not the same: the angel will help you save cars and the devil's advocate prefers that you crash them together.
* Features *
– 14 different cities and intersections with gorgeous graphics
– Two game modes: Save and Crash
– Over 60 cars including special vehicles like bulldozers, police cars, armoured trucks, etc.
– Multiple upgrades are available for vehicles
– Special characters that help you in the challenges: Guardian Angel and Devil's Advocate
Screenshots
Videos
Info
Publisher
GreenCod Apps
App requires
phone identity
media playback
data services
movement and directional sensor
HD720P (720×1280)
WVGA (480×800)
WXGA (768×1280)
SPONSORED