I Am Vegend – Zombiegeddon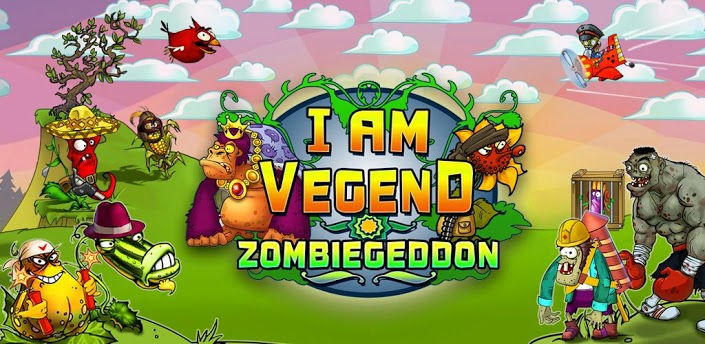 SPONSORED

Description
Captain the Vegendary Heroes, survive the Zombiegeddon and take revenge upon the birds, the pigs, and the zombies! Enjoy this mind-blowing travesty of mobile game hits!
Enemies have joined forces to destroy all plants! They trample down young innocent seedlings, besiege the allotment and steal the seeds! Take charge of Vegendary Heroes special fertilisation squad and box the blighters mugs!
To win, you will have to use anything that can shoot – and you'll find that nearly everything CAN!
Discover:
• 11 superfighters, each with a unique fighting style (and potential for development!)
• A host of enemies endowed with various abilities (any resemblance to famous persons is entirely coincidental 🙂
• 45 fascinating missions: base defense, hostage rescue, carpet bombing, etc. (we won't leek [gettit?] any more secrets for fear of spoiling your pleasure!)
• Elementary controls – you shoot where you tap!
• And if that doesn't fill your boots – for afters we got screwby bonuses and SUPER BOSSES!
The final battle will require total involvement: baste the birds with tomatoes, take advantage of carrot ordnance, chop zombies and sprinkle on the salad to watch your green-as-grass recruits grow into seasoned sergeants.Download it for free and let them see who is the veggy here!
App Screenshots
Videos
Permissions
THIS APPLICATION HAS ACCESS TO THE FOLLOWING:
NETWORK COMMUNICATION

FULL NETWORK ACCESS

Allows the app to create network sockets and use custom network protocols. The browser and other applications provide means to send data to the internet, so this permission is not required to send data to the internet.

PHONE CALLS

READ PHONE STATUS AND IDENTITY

Allows the app to access the phone features of the device. This permission allows the app to determine the phone number and device IDs, whether a call is active, and the remote number connected by a call.

STORAGE

MODIFY OR DELETE THE CONTENTS OF YOUR USB STORAGE

Allows the app to write to the USB storage.

SYSTEM TOOLS

RETRIEVE RUNNING APPS

Allows the app to retrieve information about currently and recently running tasks. This may allow the app to discover information about which applications are used on the device.
YOUR ACCOUNTS

FIND ACCOUNTS ON THE DEVICE

Allows the app to get the list of accounts known by the device. This may include any accounts created by applications you have installed.

HARDWARE CONTROLS

CONTROL VIBRATION

Allows the app to control the vibrator.

NETWORK COMMUNICATION

VIEW NETWORK CONNECTIONS

Allows the app to view information about network connections such as which networks exist and are connected.

VIEW WI-FI CONNECTIONS

Allows the app to view information about Wi-Fi networking, such as whether Wi-Fi is enabled and name of connected Wi-Fi devices.

DEFAULT

TEST ACCESS TO PROTECTED STORAGE

Allows the app to test a permission for USB storage that will be available on future devices.
VERSION:1.0
SIZE:37M
SPONSORED