Description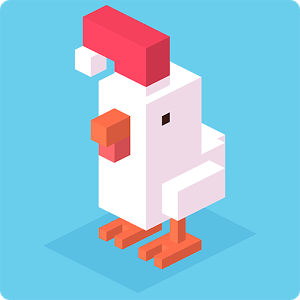 Happy Holidays!
Festive Chicken Free for a limited time!
Join over 100 MILLION players worldwide and experience Hipster Whale's massive viral #1 hit!
SPONSORED

PSY is available for a LIMITED time as an in-app purchase and costs $2.99. After purchasing, he will be available for forever, even after you can no longer purchase him within the game.
Play Crossy Road on the Big Screen with Android TV!
**DON'T LOSE YOUR CHARACTERS!**
– Go to game Settings and Sign-in with Google Play to save your characters, game progress, scores, and achievements!
– After signing in, your progress will be saved to your Google Play account
– To restore your game progress, go to Settings and click Restore Game to restore all of your characters
– You can only restore saved progress that was saved from version 1.0.6 onwards
– We are working to support saving from multiple accounts on a single device in a future version. The current version works well with one account per device or one account across multiple devices.
"A smorgasbord of vibrant, rewarding moments" – Gamezebo
"You can play it for two minutes or two hours and love every second of it" – Time
"Just pure love and frustration, in equal doses" – Polygon
Why did the Chicken cross the road?
Why did the Pigeon leave THAT there?
Why did Specimen 115 abduct that cow?
Why did Unihorse eat all that candy?
FEATURES:
– Play Crossy Road on your big screen with Android TV
– Collect over 100 retro-styled, pop art inspired characters
– Cross roads, train tracks, and rivers – endlessly hop forever
– Dodge traffic in a candy wonderland with the Android Robot
– Simple, pure, innovative gameplay
– Free to play
Have any problems or suggestions? You can reach us at [email protected].
The game require access to the following Permissions ———-
– Read device state and identity – READ_PHONE_STATE permission required by 3rd party ad SDKs
– The game requires the LOCATION permission to target and deliver video-based advertising:
The game implements opt-in video ads that players can watch to earn free coins if they choose. Watching video ads is voluntary if players want to speed up the rate they earn coins to win new characters. We require the Location permission to provide location based video ads to provide more relevant ads to players.
Screenshots
What's New
Happy Holidays!
Festive Chicken Free for a limited time!
Permission
read phone status and identity
read the contents of your USB storage
modify or delete the contents of your USB storage
read the contents of your USB storage
modify or delete the contents of your USB storage
read phone status and identity
full network access
view network connections
 Size: 47MB
Version: 1.3.5 
SPONSORED