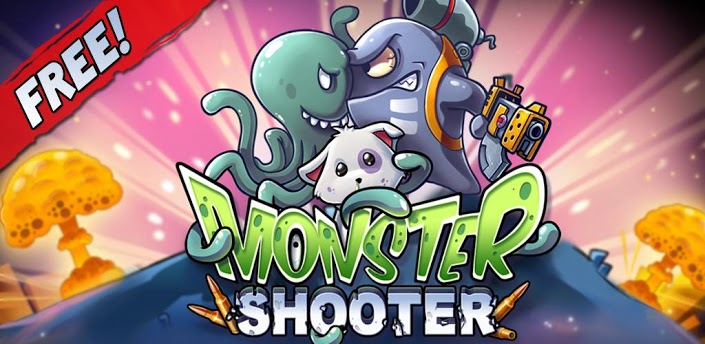 SPONSORED

Description
✪ Ad-free premium version: 
http://bit.ly/KR1A0t
 ✪ABOUT MONSTER SHOOTER
Just when you thought it couldn't get any better… it did! We took the dual-stick shooter formula and optimized it to deliver the best game we could: Monster Shooter, the new dual-stick mayhem sensation!
IT'S FREE TO PLAY!
Download the game free of charge and prove that you can handle the best mission and progress system. Visit numerous levels across three different planets and enjoy hours of free gameplay!
IT LOOKS AND SOUNDS GREAT!
Hand-drawn 2D ultra violence has never looked this cute. With a vast array of enemies, guns and effects, Monster Shooter is one of the best-looking games of its genre which also runs smoothly on older devices.
WEAPONS AND GEAR KICK BUTTS!
Never underestimate a guy whose cat has been stolen by aliens. As DumDum, you can blast your enemies with shotguns, plasma rifles and rocket launchers and spice things up with a handful of grenades… If they're still moving after that lot, use the nuke! The blood looks and sounds disturbingly fun!
THE MORE AWESOME YOU GET…
The more awesome Monster Shooter gets. Complete multiple missions and improve your rankings. Buy new stuff and show your skills off to other players using the OpenFeint.
WHAT'S NEXT?
Monster Shooter is here to stay. Download the game, follow DumDum in his quest to save the kitten, shoot your way through foreign planets and have as much fun as possible! Leave the new updates, new levels and new monsters to us; just keep playing.
Try your skill and luck in Survival mode and see if you've got what it takes to rise right up there with the leaderboard masters. See you at the top!
** PLAY MONSTER SHOOTER ON BIG TV SCREENS WITH MHL TECHNOLOGY **
** Check out http://www.meetmhl.com/ for more details **
—
Remember to join our Fan Page on Facebook for the latest updates on our games, previews and hints:
facebook.com/gamelion
If you're on Twitter, follow us on twitter.com/gamelion
Contact us via email:
[email protected]
App Screenshots
Videos
What's New
What's in this version:
1.50
➱ Support for high resolution devices added (including Google Nexus 10 and Sony Xperia Z)
1.40
➱ Bugfixing
Permissions
THIS APPLICATION HAS ACCESS TO THE FOLLOWING:
NETWORK COMMUNICATION

FULL NETWORK ACCESS

Allows the app to create network sockets and use custom network protocols. The browser and other applications provide means to send data to the internet, so this permission is not required to send data to the internet.

PHONE CALLS

READ PHONE STATUS AND IDENTITY

Allows the app to access the phone features of the device. This permission allows the app to determine the phone number and device IDs, whether a call is active, and the remote number connected by a call.

STORAGE

MODIFY OR DELETE THE CONTENTS OF YOUR USB STORAGE

Allows the app to write to the USB storage.
YOUR ACCOUNTS

FIND ACCOUNTS ON THE DEVICE

Allows the app to get the list of accounts known by the device. This may include any accounts created by applications you have installed.

NETWORK COMMUNICATION

VIEW NETWORK CONNECTIONS

Allows the app to view information about network connections such as which networks exist and are connected.

SYSTEM TOOLS

TEST ACCESS TO PROTECTED STORAGE

Allows the app to test a permission for USB storage that will be available on future devices.

AFFECTS BATTERY

PREVENT DEVICE FROM SLEEPING

Allows the app to prevent the device from going to sleep.

CONTROL VIBRATION

Allows the app to control the vibrator.
VERSION:1.50
SIZE:48M
SPONSORED