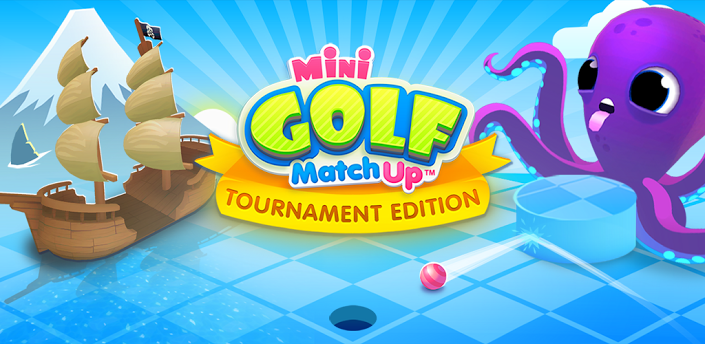 Description
★★★★★ SPECIAL NEW USER PROMO: download TODAY and get free coins! ★★★★★Tired of finding the same old words just to beat your friends? Sick of birds who are angry for absolutely no discernible reason? Accidentally ate your phone or tablet because of overly realistic graphics in your favorite candy game?Never fear – Mini Golf MatchUp™ is here!
★★★★★AWESOME FEATURES★★★★★
✓ Play against friends and family anywhere in the world
✓ 5 fun courses, over 70 holes, dozens of crazy obstacles
✓ Connect with friends from Facebook, Twitter or SMS
✓ Chat with buddies via in-game messaging
✓ Simple, drag-and-release gameplay mechanic
✓ Realistic physics and ball movement
✓ Unlockable premium courses, with new content coming!
✓ Play several games at once
✓ Do overs to help you make par
✓ Collectible gems to boost your score
Challenge your friends to the #1 mobile mini golf game, featuring fun courses, 3D graphics, score-boosting collectible gems, crazy slopes, turns, jumps and ramps, par-saving do overs, an unbeatable putting mechanic, and instant rematches. Available FREE!
Stunning, hand-designed 3D graphics, creative and challenging course designs, and our original pull-back game mechanic make the gameplay enjoyable, satisfying, and addictive! Over 70 holes across 5 courses allow for endless fun on your phone or your tablet! Start out with the Simple Summer course for a relaxed, casual game of mini golf. Turn up the heat and enjoy some hardcore putt putt on one of our unlockable premium courses for a PGA-level pro golf challenge. With countless obstacles including dinosaurs, octopuses, pyramids, sand traps, lakes, sharks, and sweet jumps, there's no end to the action-packed sports puzzle adventure of Mini Golf MatchUp.
One of the best social gaming experiences available for phone and tablet, Mini Golf MatchUp lets you go head to head with friends and family, where you can find out who owns the golf course and who's just pretending to be a pro. Scored a hole in one? Boast about it on Facebook or Twitter. Made a new golfing buddy? Chat with new friends via the in-game chat messaging feature! Want to find your friends who are already playing or invite new ones to join? Full Facebook integration makes it possible.
SPONSORED

Miss a shot? Knock your ball into the water? Playing more like Tony the Tiger than Tiger Woods? Not to worry! Do overs are available for those occasions your ball doesn't find the hole.
Kind words from our golf friends:
"Mini Golf MatchUp is the next Angry Birds, minus the birds and the anger. Similar style of awesome, realistic physics and drag and release gameplay, though."
— Brevity Johnson, putting expert and bird aficionado, California
"Every course is magical, every obstacle a challenge, every putt an adventure."
— Harry Porter (no relation to Harry Potter), Utah
"I am not Tiger Woods, nor have I ever met Tiger Woods, but I know that if he played mobile mini golf, he'd play this game right here."
— Tiger Woods look-alike
"Addicting arcade action, awesome gameplay, and bright 3d art make this a must play."
— Jimmy, pro drywall specialist, New Jersey
"It won't be long until the PGA uses Mini Golf MatchUp to decide the Masters champion. The gorgeous graphics and addictive multiplayer gameplay are just that good."
— Crazy PGA fan
"When I brag on Facebook and Twitter, it only makes other kids want to play me more. We even have our own tournament."
— Peter, 4th grader, Oregon
Please e-mail us at [email protected] with any feedback, questions, or concerns!
App Screenshots
Videos
What's New
What's in this version:
– Tournaments are here!
– Compete daily for awesome prizes!
– Free entry for every tournament!
– Climb both friends and global leaderboards
– Bug fixes, including reduced gopher frequency!
Permissions
THIS APPLICATION HAS ACCESS TO THE FOLLOWING:
YOUR LOCATION

APPROXIMATE LOCATION (NETWORK-BASED)

Allows the app to get your approximate location. This location is derived by location services using network location sources such as cell towers and Wi-Fi. These location services must be turned on and available to your device for the app to use them. Apps may use this to determine approximately where you are.

YOUR MESSAGES

SEND SMS MESSAGES

Allows the app to send SMS messages. This may result in unexpected charges. Malicious apps may cost you money by sending messages without your confirmation.

NETWORK COMMUNICATION

FULL NETWORK ACCESS

Allows the app to create network sockets and use custom network protocols. The browser and other applications provide means to send data to the internet, so this permission is not required to send data to the internet.

PHONE CALLS

READ PHONE STATUS AND IDENTITY

Allows the app to access the phone features of the device. This permission allows the app to determine the phone number and device IDs, whether a call is active, and the remote number connected by a call.

STORAGE

MODIFY OR DELETE THE CONTENTS OF YOUR USB STORAGE

Allows the app to write to the USB storage.

SYSTEM TOOLS

INSTALL SHORTCUTS

Allows an app to add shortcuts without user intervention.

YOUR SOCIAL INFORMATION

READ YOUR CONTACTS

Allows the app to read data about your contacts stored on your device, including the frequency with which you've called, emailed, or communicated in other ways with specific individuals. This permission allows apps to save your contact data, and malicious apps may share contact data without your knowledge.
YOUR ACCOUNTS

FIND ACCOUNTS ON THE DEVICE

Allows the app to get the list of accounts known by the device. This may include any accounts created by applications you have installed.

NETWORK COMMUNICATION

VIEW WI-FI CONNECTIONS

Allows the app to view information about Wi-Fi networking, such as whether Wi-Fi is enabled and name of connected Wi-Fi devices.

RECEIVE DATA FROM INTERNET

Allows apps to accept cloud to device messages sent by the app's service. Using this service will incur data usage. Malicious apps could cause excess data usage.

GOOGLE PLAY LICENSE CHECK

Google Play license check

VIEW NETWORK CONNECTIONS

Allows the app to view information about network connections such as which networks exist and are connected.

SYSTEM TOOLS

TEST ACCESS TO PROTECTED STORAGE

Allows the app to test a permission for USB storage that will be available on future devices.

AFFECTS BATTERY

PREVENT DEVICE FROM SLEEPING

Allows the app to prevent the device from going to sleep.

YOUR APPLICATIONS INFORMATION

RUN AT STARTUP

Allows the app to have itself started as soon as the system has finished booting. This can make it take longer to start the device and allow the app to slow down the overall device by always running.
Version:1.6.1
Size:38M
SPONSORED