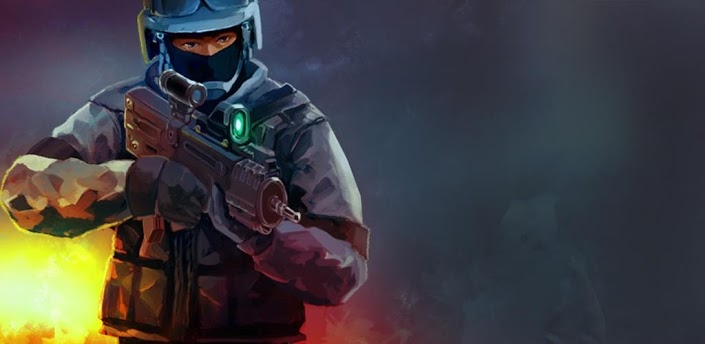 Description
"FPS fans, the moment you have been waiting for has finally arrived…" – AndroidPocketReviews.com"The gameplay and graphics are absolutely incredible – it just doesn't feel like a mobile game." – AndroidPolice.com"A 5/5 to award a great and altruistic work." – AndroidZoom.com
"Critical Strike is Impossible to put down!! Solid gameplay and smooth multiplayer experience" – GameSaku.com
***********************************
HOW TO PLAY: http://www.kongregate.com/forums/186-cs-portable/topics/285408-cs-portable-guide
Studio OnMars homepage: http://www.studioonmars.com
Critical Strike Portable homepage: http://cs-portable.com/
English forum: http://cs-portable.com/forum/viewforum.php?f=3
***********************************
Critical Strike Portable (CS Portable) delivers the nostalgic Counter-Strike style gaming experience on your Android smartphone and tablet! Enjoy the smooth and customizable touch controls and play the exciting cross-platform first-person shooter against other players on the web and on other mobile platforms.
Critical Strike Portable's awesome features include:
– Cross-platform 3D Multiplayer FPS MMO game (Local/Online) between web, iOS and Android!
– Single player mode: Player vs. Bots
– Smooth and responsive customizable touch controls
– All popular Game Types (Classic, zombie survival, Team Death Match, ect.)
– Customizable server settings: Player HP, player speed, zombie difficulty, modes: matrix mode, night mode, space mode, ect.)
– Dozens of unique maps (and more added continuously)
– Build and upload your own maps with Unity 3D
– And most of all, dedicated and passionate development team to listen your feedback!
PLEASE NOTE! Critical Strike Portable has no connection to Valve Corporation. Critical Strike Portable tributes original Counter Strike v1.6 but is an independent game developed from the scratch using self-made code and resources.
***********************************
SPONSORED

About Us:
Studio OnMars is a Finnish game development studio founded in 2012. Our goal is to create fun and smooth gaming experiences on various platforms.
***********************************
Some Android devices have encountered problems while installing/playing the game, we're looking into it. In some occasions the game might freeze for a minute or so, when you load a map. If this happens, just wait a moment. Below the list of devices reported to have some issues. Even if your device is listed here, it is possible that the game still works in your device (it does for most people).
Samsung GT-S5830i (GT-S5830i)
Samsung Galaxy S2 (GT-I9100) 5x (4.0.3, 4.01)
Samsung Galaxy Tab 8.9 (GT-P7310)
Samsung Galaxy 3 (GT-I5800)
Samsung Galaxy Mini (GT-S5570) 3x
Samsung Galaxy Gio (GT-S5660) 2x
Samsung Galaxy 551
Samsung GT-S5300
Samsung GT-P6210 (GT-P6210)
Samsung GT-I8150B (GT-I8150B)
Samsung Replenish (SPH-M580)
Samsung Galaxy Tab 10.1 (GT-P7510)
Samsung Galaxy Nexus (maguro)
Samsung Galaxy Note (GT-N7000)
Samsung GT-S5360 (GT-S5360)
LGE Optimus One (thunderg)
LGE Optimus 2X (p990)
LGE Pecan (pecan)
Sony Ericsson Xperia Play (R800i)
Sony Ericsson R800at (R800at) 2x
Sony Ericsson R800x (R800x)
Sony Ericsson LT18i (LT18i) 2x
Sony Ericsson WT19i (WT19i)
HTC Explorer A310e (pico) 2x
HTC HTC EVO 3D X515m
HTC HTC One V (primou)
HTC Thunderbolt (mecha)
HTC Wildfire S (marvel)
HTC Desire S (saga)
ZTE RACERII (racer2)
Huawei M865 (hwm865) 2x
Toshiba Corporation AT100 (tostab03)
Toshiba Thrive Honeycomb 3.1
App Screenshots
Videos
What's New
What's in this version:
Version 2.61e
– night mode avaible in custom games
– fixed voice chat
– controls: on double touch keep move in same direction option
– settings: color players in red and blue
– tesla zombies in survival
– buy barricades in survival
– fixed bot spawn underground
– in noobs game mode life is multiplied by your deaths/kills
Version 2.56
– can buy weapons if dead
– skins select by money
– rank now based on K/D and not depends on scoreboard
Permissions
THIS APPLICATION HAS ACCESS TO THE FOLLOWING:
NETWORK COMMUNICATION

FULL NETWORK ACCESS

Allows the app to create network sockets and use custom network protocols. The browser and other applications provide means to send data to the internet, so this permission is not required to send data to the internet.

PHONE CALLS

READ PHONE STATUS AND IDENTITY

Allows the app to access the phone features of the device. This permission allows the app to determine the phone number and device IDs, whether a call is active, and the remote number connected by a call.

STORAGE

MODIFY OR DELETE THE CONTENTS OF YOUR USB STORAGE

Allows the app to write to the USB storage.

AFFECTS BATTERY

ALLOW WI-FI MULTICAST RECEPTION

Allows the app to receive packets sent to all devices on a Wi-Fi network using multicast addresses, not just your device. It uses more power than the non-multicast mode.

MICROPHONE

RECORD AUDIO

record audio
YOUR ACCOUNTS

FIND ACCOUNTS ON THE DEVICE

Allows the app to get the list of accounts known by the device. This may include any accounts created by applications you have installed.

NETWORK COMMUNICATION

VIEW NETWORK CONNECTIONS

Allows the app to view information about network connections such as which networks exist and are connected.

SYSTEM TOOLS

TEST ACCESS TO PROTECTED STORAGE

Allows the app to test a permission for USB storage that will be available on future devices.
VERSION:2.632
SIZE:28M
SPONSORED