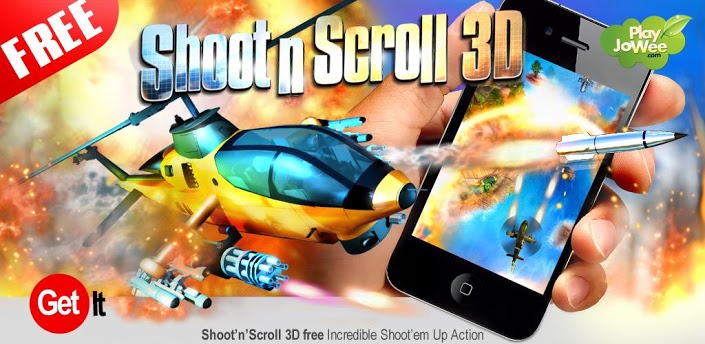 SPONSORED

Description
Helicopter arcade game. Shoot'em-up action with plenty of sky adventures and adrenaline. The game is aimed at all gamblers, from novices to hardcore action gamers. Gamblers can try their skills at lot of levels and bosses. As they complete levels, gamblers gain access to new, more powerful armed enemies and unexpected air attack surprises. Easy game controls, arcade action and lot of guns, bullets, rockets and explosions. Ready for takeoff? Wheels up!Features:
. Totally free game
. Arcade scrolling shooter, shoot'em all
. Helicopters with different features: fireball attack, laser beam and air electric shield
. Machine gun with standart bullets, triple shoot machine gun, machine gun with side tracers, full pumped machine gun
. Self-direction air to air rockets
. Sky Master Metal Helicopter boss, Armored Tank with machine gun, Electrical protective tower, Military Red-Skull boss and Sky Jet fighter boss
. Upgraded bullets, weapons reload time, rockets and super attack chargeIf you like games like 1942, 1943, Siberian Strike, iFighter, Air Strike, Flying Shark, DoDonPachi, Espgaluda, Swiv, Sky Force, Warblade, Air Attack, Sky Gamblers, Helic, Mortal Skies, this game is for you.
App Screenshots
Videos
What's New
What's in this version:
version 1.0
version 02.04.2013
. 3 difficulty levels added
. Some minor graphics updates
Permissions
THIS APPLICATION HAS ACCESS TO THE FOLLOWING:
NETWORK COMMUNICATION

FULL NETWORK ACCESS

Allows the app to create network sockets and use custom network protocols. The browser and other applications provide means to send data to the internet, so this permission is not required to send data to the internet.
NETWORK COMMUNICATION

VIEW NETWORK CONNECTIONS

Allows the app to view information about network connections such as which networks exist and are connected.
VERSION:2.0
SIZE:32M
SPONSORED