Description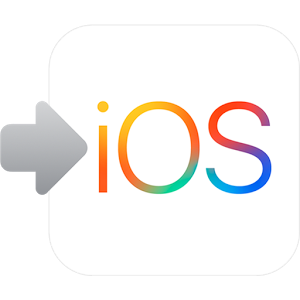 Everything about iOS is designed to be easy. That includes switching to it. With just a few steps, you can migrate your content automatically and securely from your Android device with the Move to iOS app. No need to save your stuff elsewhere before switching from Android. The Move to iOS app securely transfers all kinds of content for you:Contacts
Message history
Camera photos and videos
Web bookmarks
Mail accounts
Calendars
SPONSORED

When you choose to migrate your data, your new iPhone or iPad will create a private Wi-Fi network and find your nearby Android device running Move to iOS. After you enter a security code, it will begin transferring your content and put it in the right places. Just like that. Once your content has been transferred, you're ready to get going. iOS will also set up your default mail account. That's it — you can start using your new iPhone or iPad and experiencing its endless possibilities. Enjoy.
Move to iOS is supported on all phones and tablets running Android 4.0 and later.
Screenshots
What's New
This release includes bug fixes.
Permission
Version 1.59.1 can access:
read your Web bookmarks and history
find accounts on the device
read calendar events plus confidential information
read your contacts
find accounts on the device
read your text messages (SMS or MMS)
read the contents of your USB storage
modify or delete the contents of your USB storage
read the contents of your USB storage
modify or delete the contents of your USB storage
view network connections
connect and disconnect from Wi-Fi
allow Wi-Fi Multicast reception
full network access
prevent device from sleeping
Size: 24 MB
Version: 1.59.1 
SPONSORED