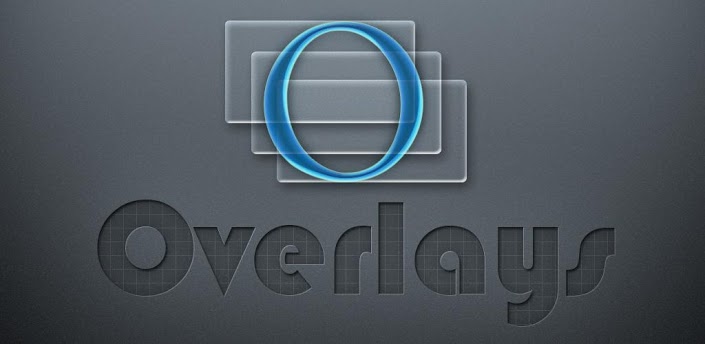 Description
Overlays allows you to float your home screen widgets ANYWHERE!For detailed tutorials, visit our website – http://www.applay.co/
• Show your favorite music widget on top of your navigation application!
• Float a calculator while writing documents.
• Make sure you still have battery when playing a game.
• Take notes while reading an eBook.
• And many more options…
* Overlays application does NOT contain the widgets. It only breaks the home screen limit and shows them where ever you want!
Please don't rate low before you contact us. We promise to respond to every email!
For permissions required & common questions, read below or contact us.
Main features:
• Cool in-house overlays – Clock, Battery, Weather, Missed calls, Unread SMS count and shortcuts! In-house overlays have unique preferences option to allow maximum flexibility!
• Create as many profiles as you want and switch between them easily.
• Rearange, Resize and Delete your overlays, even when you're using a different application! (long click to edit).
• Supports different positioning for portrait and landscape orientation.
• All home screen widgets are working, including Gmail and Messaging.
• Overlay transparency (alpha).
SPONSORED

Purchasing Overlays Pro unlocks the following features:
• Application profiles -create profiles for each application! When the application starts, Overlays will show its profile and hide it when you leave the application. No action required from you.
• Tasker integration – Switch profiles on incoming call, headphones plugged, when arrived to a specific location and many more!
• Future features and unique in-house Overlays.
FAQ
• Q: I purchased the Pro application but I still can't use the pro features!
A: Please make sure you have a working network connection and force the main (free) Overlays application to restart (application's menu->Kill Overlays). If that doesn't help, please contact us through the application's settings (Feedback).
• Q: How do I use the Tasker plugin?
A: Create a Tasker profile and when asked to add a task, choose "Plugin" -> "Overlays". On the "Action Edit" window, click the "Edit" button and choose the Overlays profile you want to switch to when the Tasker event you defined occur.
If needed, add a Tasker exit task – just use the same task (we'll handle when to show and when to hide the selected Overlays profile).
Thank you for your support!
App Screenshots
Videos
What's New
What's in this version:
<u>1.0.8.1</u>:
Critical bug fixes and optimizations.
Next version will include new Overlays and we promise they are going to be very cools ones!
Permissions
THIS APPLICATION HAS ACCESS TO THE FOLLOWING:
YOUR LOCATION

PRECISE LOCATION (GPS AND NETWORK-BASED)

Allows the app to get your precise location using the Global Positioning System (GPS) or network location sources such as cell towers and Wi-Fi. These location services must be turned on and available to your device for the app to use them. Apps may use this to determine where you are, and may consume additional battery power.

YOUR MESSAGES

READ YOUR TEXT MESSAGES (SMS OR MMS)

Allows the app to read SMS messages stored on your device or SIM card. This allows the app to read all SMS messages, regardless of content or confidentiality.

NETWORK COMMUNICATION

FULL NETWORK ACCESS

Allows the app to create network sockets and use custom network protocols. The browser and other applications provide means to send data to the internet, so this permission is not required to send data to the internet.

YOUR PERSONAL INFORMATION

READ CALL LOG

Allows the app to read your device's call log, including data about incoming and outgoing calls. This permission allows apps to save your call log data, and malicious apps may share call log data without your knowledge.

READ YOUR CONTACTS

Allows the app to read data about your contacts stored on your device, including the frequency with which you've called, emailed, or communicated in other ways with specific individuals. This permission allows apps to save your contact data, and malicious apps may share contact data without your knowledge.

SYSTEM TOOLS

DRAW OVER OTHER APPS

Allows the app to draw on top of other applications or parts of the user interface. They may interfere with your use of the interface in any application, or change what you think you are seeing in other applications.

RETRIEVE RUNNING APPS

Allows the app to retrieve information about currently and recently running tasks. This may allow the app to discover information about which applications are used on the device.
HARDWARE CONTROLS

CONTROL VIBRATION

Allows the app to control the vibrator.

SYSTEM TOOLS

RUN AT STARTUP

Allows the app to have itself started as soon as the system has finished booting. This can make it take longer to start the device and allow the app to slow down the overall device by always running.
VERSION:1.0.8.1
SIZE:655k
SPONSORED