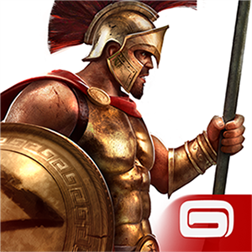 Description
Unite the powers of men and gods to protect Ancient Greece from Xerxes' invasion!
Join a compelling strategy game with a unique and intense combat system and thousands of players for you to ally with… or conquer. This isn't just a war, THIS… IS… AGE OF SPARTA!
WAR FOR SPARTA
– Xerxes thinks Greece will surrender? HA! Fight back in strategic battles.
– Call upon Zeus's thunderous might and Hades' dark wrath to purge foes from the battlefield.
– Unleash legions of unique units, including mythical monsters & beasts.
– Get pulled into the action with amazingly animated combat scenes.
SPONSORED

A CITY TO RIVAL OLYMPUS
– Design a glorious city that you can customize with mighty barracks, majestic monuments and more.
– Honor the gods with Temples and Shrines so they can fuel your assault.
UNITE & CONQUER
– Ally with players to form an unstoppable force and declare war on rivals.
– Socialize with friends and allies via the in-game chat.
_____________________________________________
This app allows you to purchase virtual items within the app.
Terms of use: http://www.gameloft.com/conditions/
App Screenshots
Info
Content rating
Works with
Windows Phone 8.1
Windows Phone 8
App requires
phone identity
owner identity
music library
media playback
data services
push notification service
movement and directional sensor
web browser component
HD720P (720×1280)
WVGA (480×800)
WXGA (768×1280)
Supported languages (15)
العربيةDeutschEnglish (United States)Español (España, alfabetización internacional)françaisBahasa Indonesiaitaliano日本語한국어português (Brasil)русскийไทยTürkçe中文(简体)中文(繁體)
SPONSORED