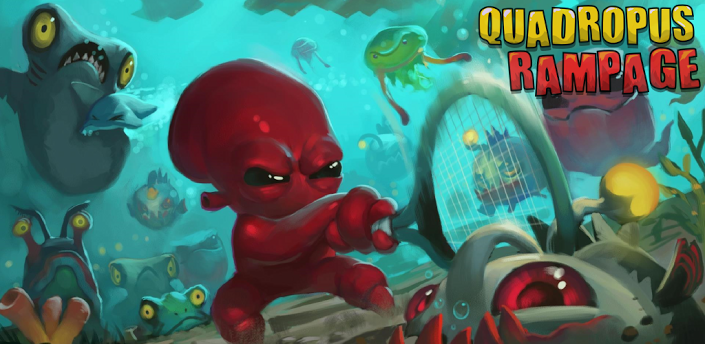 SPONSORED

Description
"A shining example of what a free game can be." – PixelFreakQuadropus Rampage is an Endless Roguelike that casts you, the player, as an enraged, four-legged cephalopod. It is your quest to reach the bottom of the ocean and destroy Pete, the evil god of the sea, before his army of abyssal creatures can overtake the ocean.Note: We are aware of a sporadic crash that sometimes occurs when traveling from the gameplay screen to one of the game's menus. We are working on a fix and will have it out ASAP!
***Features***
• Be a quadropus – Go on a rampage
• Perfect fusion of roguelike and brawler – Hit enemies in their stupid faces
• Endless Gameplay – Randomly generated weapons, levels, and enemies that keep the action fresh until you die from thumb exhaustion
• Intuitive, fast-paced combat – Easy to learn, difficult to master. Dodge, block, stab, smash, and spin your way to victory!
• Five epic boss fights – Pursue Pete into the depths and bludgeon his mouth off
• Mastery system – 23 achievements with gameplay altering rewards
• Artifacts – Unearth 39 treasures that let you shoot lasers out of your face or turn your pet starfish into an explosive boomerang
• Extensive upgrade tracks – Invest orbs in your quadropus to make him stronger
• Hilarious Characters – Break your ribs from intense chuckling
• Google Play Game Services (for Android 4.0 and up) – Show your friends who's the neck-slappingest Quadropus
• Xperia Play support – Because WHY NOT? (Buttons only, no joypads yet)
From the creators of critically acclaimed Towelfight 2 : The Monocle of Destiny.
GET TO TENTACLE-SLAPPIN!
App Screenshots
Videos
What's New
What's in this version:
v1.0.1 Fixed a slowdown that would occur when visiting the main menu.
Permissions
THIS APPLICATION HAS ACCESS TO THE FOLLOWING:
NETWORK COMMUNICATION

FULL NETWORK ACCESS

Allows the app to create network sockets and use custom network protocols. The browser and other applications provide means to send data to the internet, so this permission is not required to send data to the internet.

STORAGE

MODIFY OR DELETE THE CONTENTS OF YOUR USB STORAGE

Allows the app to write to the USB storage.

BLUETOOTH

PAIR WITH BLUETOOTH DEVICES

Allows the app to view the configuration of Bluetooth on the device, and to make and accept connections with paired devices.
NETWORK COMMUNICATION

VIEW NETWORK CONNECTIONS

Allows the app to view information about network connections such as which networks exist and are connected.

SYSTEM TOOLS

TEST ACCESS TO PROTECTED STORAGE

Allows the app to test a permission for USB storage that will be available on future devices.
SPONSORED