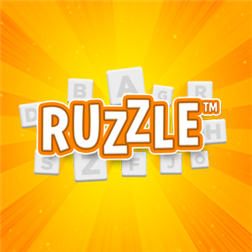 Description
If you like playing word games then you need to join over 35 million players and try Ruzzle!
Ruzzle is a fun and fast-paced word game where you can challenge your friends or allow an opponent to be chosen randomly. Who can find the most words in two minutes?
Find as many words as possible on a board by swiping your finger across the screen. The letters may form words as long as they are connected to each other. Nice audio and animations make it even more fun to play.
SPONSORED

The matches are played in three rounds and the highest total number of scores wins.
The rounds can be played when it suits you. You can get going as soon as you have two minutes to spare!
Letter scores, word length and bonus pieces help you to collect as many scores as possible.
If you would like to practice offline, you can play matches in the premium version.
Challenge yourself and your friends in Ruzzle!
Games can be played in the following languages:
English
Danish
Norwegian
French
German
Dutch
Swedish
Brazilian Portuguese
Spanish
Italian
Global ranking list and support available at: www.ruzzle-game.com
Screenshots
Info
Download size
19 MB
Works with
Windows Phone 8
Windows Phone 7.5
App requires
phone identity
media playback
data services
push notification service
movement and directional sensor
HD720P (720×1280)
WVGA (480×800)
WXGA (768×1280)
owner identity
video and still capture
photo, music, and video libraries
camera
Supported languages (10)
danskDeutschEnglish (United States)Español (España, alfabetización internacional)françaisitalianonorsk (bokmål)Nederlandsportuguês (Brasil)svenska
SPONSORED