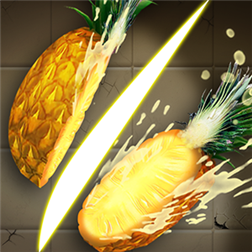 Description
***What's new in V1.1***
– Leaderboard added. Submit a score now!
– Support low memmory device.
– Bug fixed.
SPONSORED

A very classic game 'Fruit Slash' is free at your phone now! Go experience this precise slicing action on various kinds of fruits, you will be addicted to this fruit slashing.
Any feedback please email us, because we can't reply on comments. Thanks very much for all your support in our games!
Special point marking way, beautiful graphics, awesome sound effect and smooth gameplay make Fruit Slash an addictive game, and a great way to kill time.
In AE Fruit Slash:
1) Blades- 3 color to choose:
* Silver blade
* Grass aromatic
* Golden lightning
2) More than 15 kinds of fruits
3) 3 varieties of fruit model: classic, flaming, freezing
4) Point marking with the weight of missed fruits
***How To Play***
1. Tap on the watermelon to start game
2. Slice on every fruit appears on screen
Note: 1) Do not touch the bombs which are occasionally thrown onto the screen.
2) Sugarcane is the special fruit in the game, slice it multiple times to get extra points.
3) Special fruits with flame will increase the amount of fruit on the screen.
4) If you cut freezing fruit, it will slow down the movement of all fruit for a short period of time.
5) Extra points will be awarded for slicing multiple fruits with one swipe
6) You can use additional fingers to make multiple slices simultaneously.
3. You will get points according to the amount of fruits you sliced
4. If the weight of missed fruits reaches 10lb or kg, your game ends.
If you like Fruit Ninja, Angry Birds, Bad Piggies, Cut the Rope, Cut boom, Chop Chop Slicer, Temple Run, Doodle Jump, Tetris, Bejeweled, Tiny Wings, Subway Surfers and other action and arcade casual game, you shouldn't miss this interesting game!
Come on! Good luck and be a fruit man!
Screenshots
Info
Publisher
AE Mobile
Works with
Windows Phone 8
Windows Phone 7.5
App requires
phone identity
owner identity
photo, music, and video libraries
data services
movement and directional sensor
camera
HD720P (720×1280)
WVGA (480×800)
WXGA (768×1280)
SPONSORED