Saga — Automatic Lifelogging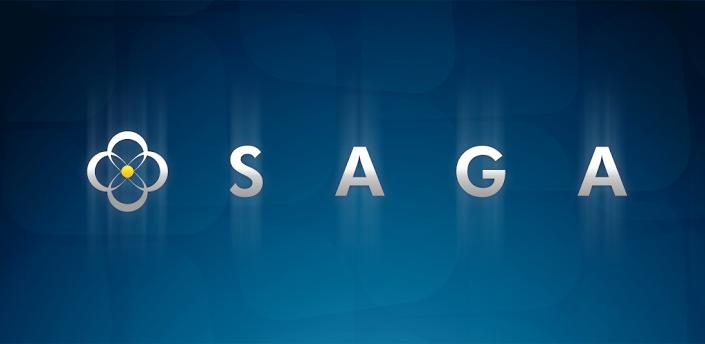 Description
Saga is the easy way to keep track of where you go and what you do with no need to check in. Live your life, and let Saga write your digital autobiography.Saga is the automatic lifelogging app for everyone. Download Saga and start building your lifelog today, with next to no manual input from you.
HOW DOES SAGA WORK?
Saga uses the sensors on your phone to determine your current location, then stores that location and the duration of your visit, creating a rich lifelog of your activities.
Over time, Saga will get to know you, and offer feedback about your unique routines and traits. Saga gets smarter every time you confirm your location, and your personal personal patterns begin to emerge. The smarter Saga gets, the more meaningful your lifelog can be.
HOW DO I USE SAGA?
After install, you don't have to do anything except open the app once. Saga will do the rest and automatically start lifelogging your story.
You can enrich your lifelog with photos strips called "snaps," personalized notes, and data from your other favorite services (Facebook, Twitter, Instagram, Runkeeper, BodyMedia, Withings, Fitbit, Tripit, and Foursquare). It's the fun and easy way to build your lifelog and gain self-knowledge.
EXPLORE THE ART AND SCIENCE OF YOU.
Lifelogging is the best way to understand where to start when you want to live better. As you lifelog, Saga will surface trends data and visuals infographs to help you learn more yourself, and get more out of life.
✓ Track your time in transit, at work, and everywhere you go, and see how you stack up against other users
✓ Understand your how you spend your time and where you go with personal lifelog analytics
✓ Optimize your life by having a better understanding of how you spend your time
After using Saga for a while, you will be assigned unique traits, based on patterns in your behavior. These paint a picture of what makes you uniquely you.
WHY LIFELOG?
We all lifelog for different reasons. Some people like to capture every moment of their lives, and add notes and photos to look back on later. Many lifeloggers do it to measure something specific, like how many miles they travel per week. Lifelogging can be a tool for self-improvement. Those who track themselves have been shown to have more success at reaching goals, like losing weight. Some people even lifelog to share their adventures with their friends and family. Start lifelogging and discover what Saga can offer you.
Learn more at http://www.getsaga.com.
WHAT YOU GET WITH SAGA
SPONSORED

Unlike other location tracking apps, Saga will not drain your battery. Typical users are getting about 24 hours of battery life while running Saga.
Saga pinpoints your location from a database of millions of established places.
Add data from social media, fitness tracking, and travel apps, to enrich your lifelog.
Add notes and photos to help your record all of your adventures.
Know thyself better with personal Saga's personal analytics.
Saga will assign you traits based on trends over time, helping you understand how you spend your time, and how you compare to peers.
Curate and share your favorite places with family and friends.
FEEDBACK? RECOMMENDATIONS? CONTACT US!
We'd love to hear from you! Get in touch: [email protected]
Meet the new memory lane. Download Saga, and start creating your personal lifelog today.
App Screenshots
What's New
What's in this version:
DarkSky weather notifications in the Now tab
Various bug fixes
Permissions
THIS APPLICATION HAS ACCESS TO THE FOLLOWING:
YOUR LOCATION

PRECISE LOCATION (GPS AND NETWORK-BASED)

Allows the app to get your precise location using the Global Positioning System (GPS) or network location sources such as cell towers and Wi-Fi. These location services must be turned on and available to your device for the app to use them. Apps may use this to determine where you are, and may consume additional battery power.

NETWORK COMMUNICATION

CONNECT AND DISCONNECT FROM WI-FI

Allows the app to connect to and disconnect from Wi-Fi access points and to make changes to device configuration for Wi-Fi networks.

FULL NETWORK ACCESS

Allows the app to create network sockets and use custom network protocols. The browser and other applications provide means to send data to the internet, so this permission is not required to send data to the internet.

STORAGE

MODIFY OR DELETE THE CONTENTS OF YOUR USB STORAGE

Allows the app to write to the USB storage.

CAMERA

TAKE PICTURES AND VIDEOS

Allows the app to take pictures and videos with the camera. This permission allows the app to use the camera at any time without your confirmation.
YOUR ACCOUNTS

FIND ACCOUNTS ON THE DEVICE

Allows the app to get the list of accounts known by the device. This may include any accounts created by applications you have installed.

READ GOOGLE SERVICE CONFIGURATION

Allows this app to read Google service configuration data.

NETWORK COMMUNICATION

VIEW WI-FI CONNECTIONS

Allows the app to view information about Wi-Fi networking, such as whether Wi-Fi is enabled and name of connected Wi-Fi devices.

VIEW NETWORK CONNECTIONS

Allows the app to view information about network connections such as which networks exist and are connected.

SYSTEM TOOLS

TEST ACCESS TO PROTECTED STORAGE

Allows the app to test a permission for USB storage that will be available on future devices.

YOUR APPLICATIONS INFORMATION

RUN AT STARTUP

Allows the app to have itself started as soon as the system has finished booting. This can make it take longer to start the device and allow the app to slow down the overall device by always running.
VERSION:1.1.0
SIZE:5.4M
SPONSORED