Schemes – Scheduled Networking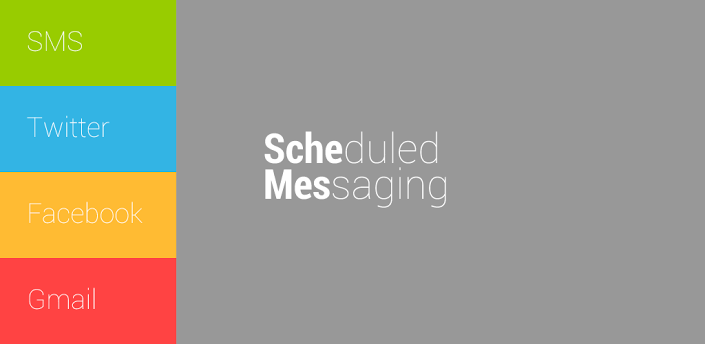 Description
Schemes is a simple tool that allows you to send scheduled messages via SMS, Facebook, Twitter or Email (Gmail only!). Whether you want to send that happy birthday text at midnight (or a minute before midnight if that's your thing), Tweet about your favourite time of the day, make a Facebook status without your friends on the other side of the world missing it, or send that important business email right on the hour, Schemes will do it for you!
For now, Schemes is still in a free BETA stage. If you face any crashes, please let me know and I will try fix it with you. One star reviews don't fix anything!FEATURES:
– Send scheduled SMS, Facebook statuses, Tweets or Emails from your device!
– Clean Holo UI
– Notifications on sending
– All messages are added to their respective threads in the Messaging app
– Cancelable messages
– And more!
PERMISSIONS:
* Messages – used for SMS contact suggestions
* Reading contacts – used to store the messages in their respective threads
* Your accounts – for Gmail
SPONSORED

App Screenshots
What's New
What's in this version:
0.521:
* Fix Gmail login (log in/out in settings)
0.51+0.52:
* Fix various crashes
0.50 BIG UPDATE:
* Gmail contacts now load for suggestions, still work in progress. Requires permissions
* Messages can be edited
<b>Please consider updating your review.</b>
* Fixed background crashes
* Fixed messages not being removed
* Reduced app size
* Fixed other crashes/bugs.
0.41:
* Added a counter to the message field
* Messages now automatically reschedule 5 minutes later if no connection is present.
Permissions
THIS APPLICATION HAS ACCESS TO THE FOLLOWING:
YOUR ACCOUNTS

USE ACCOUNTS ON THE DEVICE

Allows the app to request authentication tokens.

YOUR MESSAGES

SEND SMS MESSAGES

Allows the app to send SMS messages. This may result in unexpected charges. Malicious apps may cost you money by sending messages without your confirmation.

EDIT YOUR TEXT MESSAGES (SMS OR MMS)

Allows the app to write to SMS messages stored on your device or SIM card. Malicious apps may delete your messages.

READ YOUR TEXT MESSAGES (SMS OR MMS)

Allows the app to read SMS messages stored on your device or SIM card. This allows the app to read all SMS messages, regardless of content or confidentiality.

NETWORK COMMUNICATION

FULL NETWORK ACCESS

Allows the app to create network sockets and use custom network protocols. The browser and other applications provide means to send data to the internet, so this permission is not required to send data to the internet.

PHONE CALLS

READ PHONE STATUS AND IDENTITY

Allows the app to access the phone features of the device. This permission allows the app to determine the phone number and device IDs, whether a call is active, and the remote number connected by a call.

YOUR SOCIAL INFORMATION

READ YOUR CONTACTS

Allows the app to read data about your contacts stored on your device, including the frequency with which you've called, emailed, or communicated in other ways with specific individuals. This permission allows apps to save your contact data, and malicious apps may share contact data without your knowledge.
YOUR ACCOUNTS

FIND ACCOUNTS ON THE DEVICE

Allows the app to get the list of accounts known by the device. This may include any accounts created by applications you have installed.

NETWORK COMMUNICATION

VIEW NETWORK CONNECTIONS

Allows the app to view information about network connections such as which networks exist and are connected.

YOUR APPLICATIONS INFORMATION

RUN AT STARTUP

Allows the app to have itself started as soon as the system has finished booting. This can make it take longer to start the device and allow the app to slow down the overall device by always running.
VERSION:0.521
SIZE:1.3M
SPONSORED