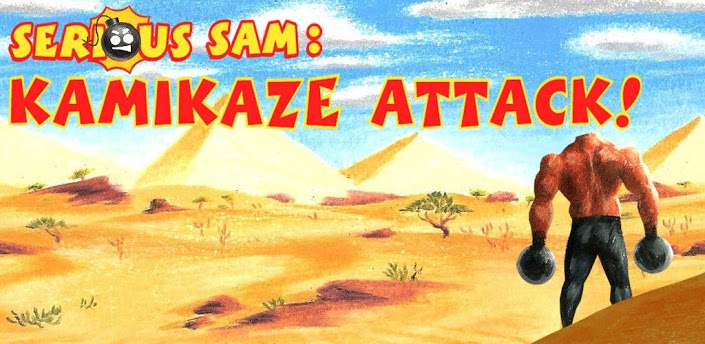 SPONSORED

Description
What the press are saying:"one of the most entertaining mobile games I've played in a long time" – Indie Games Channel
"Kamikaze Attack works well. Running around without a head and with bombs for hands is far more fun than you'd think" – TouchArcade
"A fun pick up if you love the series or you're after a quirky new distraction" – AppSpy, 4/5
"It's a great way to obtain some laughs, or manifest anger at trying to blow up Sam Stone" – The Speed Gamers, 8.0/10
**********************************************
Description:
Remove your head, grab some bombs, and step into the boots of Serious Sam's most iconic foe, the Headless Kamikaze. Dodge hazards and heavy ordinance from the cowardly Serious Sam himself as you make your way through the chaotic action in an attempt to do what you do best: blow up the vile Serious Sam.
AAAAAAAAAHHHHHHHHHH! BOOM!
**Serious Sam: Kamikaze Attack! FREE contains 4 levels from the full game with the option to unlock the full game by either paying for it or unlocking it FOR FREE!
Features in the full game:
Mobile Kamikaze Action – Direct your kamikaze horde toward certain death in more than 40 levels of mobile action. Either fall at the hands of Serious Sam's bombs and rockets or go out in an honorable blaze of glory in the service of Lord Mental.
Super Sleek Art – Colorful hand-drawn artwork distracts you from the underlying truth: your little kamikaze friend is destined to die in a horribly violent explosion. Cartoon dismemberment has never been so pretty.
Savage Bonus Modes – Take a shot at kamikaze immortality by posting a top score on one of the endless bonus levels like Complete Chaos and Frog Punt.
Social Media Integration – Spam your friends' Facebook feeds with your high scores, people love when you do that. Trust us.
Sweet Juicy Credits – A list of credits for the game featuring first and last names. Boosh!
-XPERIA PLAY Optimized
App Screenshots
Videos
What's New
What's in this version:
Fixed a glitch in the matrix (tapjoy integration)
Permissions
THIS APPLICATION HAS ACCESS TO THE FOLLOWING:
NETWORK COMMUNICATION

FULL NETWORK ACCESS

Allows the app to create network sockets and use custom network protocols. The browser and other applications provide means to send data to the internet, so this permission is not required to send data to the internet.

PHONE CALLS

READ PHONE STATUS AND IDENTITY

Allows the app to access the phone features of the device. This permission allows the app to determine the phone number and device IDs, whether a call is active, and the remote number connected by a call.

STORAGE

MODIFY OR DELETE THE CONTENTS OF YOUR USB STORAGE

Allows the app to write to the USB storage.

YOUR APPLICATIONS INFORMATION

RETRIEVE RUNNING APPS

Allows the app to retrieve information about currently and recently running tasks. This may allow the app to discover information about which applications are used on the device.
NETWORK COMMUNICATION

VIEW NETWORK CONNECTIONS

Allows the app to view information about network connections such as which networks exist and are connected.

SYSTEM TOOLS

TEST ACCESS TO PROTECTED STORAGE

Allows the app to test a permission for USB storage that will be available on future devices.
VERSION:1.13
SIZE:10M
SPONSORED