Description
Say "hello" to friends and family with an instant message, voice or video call on Skype for free. Join the millions of people using Skype today to stay in touch with the people who matter most. There's so much you can do, right from the palm of your hand.
Features:
• Find all your friends and family in an instant – With over 250 million people using Skype, you're bound to bump into someone you know.
• Talk with your fingers – No matter where you are, your friends are always at your fingertips with free instant messaging.
• Call your world from Skype – Talk to your heart's content with free voice and video calls to all your friends and family on Skype.
• Low cost calls to mobiles and landlines too – Keep in touch, even if they're not on Skype, with low cost calls and SMS to mobiles and landlines on the other side of town or the world.
• Share your favourite snaps – Got a favourite photo to share? Send it over Skype to friends and family and you won't have to worry about email size limits or expensive MMS charges.
• Chat with anyone, anywhere – Skype's available on smartphones, tablets, PCs, Macs, and even TVs. Whatever device your friends or family use, Skype just works. Simple.
• Video messaging – Record life's everyday moments and share them with the people who matter most, with free and unlimited video messaging over Skype.
* Operator data charges may apply. We recommend using an unlimited data plan or WiFi connection.
SPONSORED

Screenshots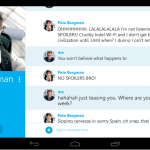 What's New
Tablet owners rejoice! Now you get a totally new version of Skype too, including a modern design and performance improvements.
Video quality improvements – calls are clearer and higher resolution.
Accessibility improvements with full support for TalkBack.
Free accounts will see ads. But if you have Skype Credit, a subscription or a Premium account, you'll continue to enjoy an ad-free experience.
Version:4.4.0.31835
Size:17M
SPONSORED