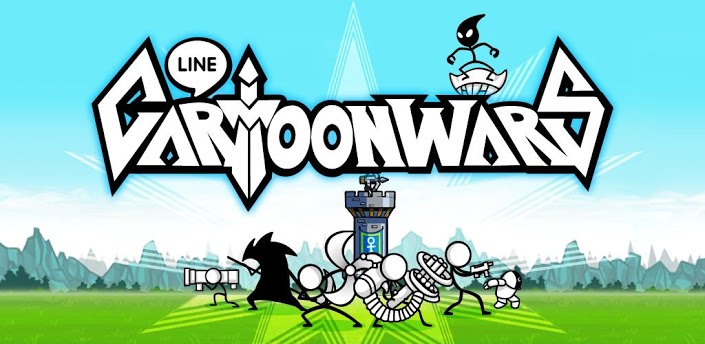 Description
★10 million total downloads worldwide!★The new official game from "LINE"– the free messenger app.
Free to download! It's an exciting defense game!
■Play with your LINE friends!
A defense game everybody loves! Introduce your LINE friends to "LINE Cartoon Wars" and play together! Take on an endless series of stages while enhancing your unit (soldiers)!
See who can get the most victories!
■How to Play
1. Comical characters! Exciting action!
Your comrades are stick figures?!
Lead your comical but widely skilled unit (soldiers) and capture your opponent's castle!
2. Upgrade to the ultimate military unit!
Over 20 types of characters to join your group!
Apart from characters, you can also enjoy 16 types of upgradable items, from castle-protecting bows to enhancing skills for Mana needed to summon units.
3. Clear the stage with perfect strategic battle techniques!
The order and timing with which you summon units is an important strategic point. Lead your army of friendly units to fight off the constant stream of enemies and move through the endless series of stages!
SPONSORED

■Story
There were two tribes in Cartoon World: the Color tribe, and their slaves – the Black & White Cartoon Tribe.
The Black & White Cartoon Tribe has been oppressed and enslaved for generations.
But now, they're taking their stand.
Seeking freedom, brave warriors have banded together to take on the Color Tribe.
An unstoppable war has begun… Become the hero of the Black & White Cartoon Tribe and free your imprisoned comrades!
App Screenshots
What's New
What's in this version:
Information for Latest Update(ver. 1.0.4)
Thank you for playing LINE cartoon wars.
Please find the details below for our latest update of the game.
– Changed the Help URL
We'll do our best to provide best services for you to enjoy our product.
Thank you all for your supports to LINE cartoon wars.
Permissions
THIS APPLICATION HAS ACCESS TO THE FOLLOWING:
NETWORK COMMUNICATION

FULL NETWORK ACCESS

Allows the app to create network sockets and use custom network protocols. The browser and other applications provide means to send data to the internet, so this permission is not required to send data to the internet.

CONNECT AND DISCONNECT FROM WI-FI

Allows the app to connect to and disconnect from Wi-Fi access points and to make changes to device configuration for Wi-Fi networks.

PHONE CALLS

READ PHONE STATUS AND IDENTITY

Allows the app to access the phone features of the device. This permission allows the app to determine the phone number and device IDs, whether a call is active, and the remote number connected by a call.

STORAGE

MODIFY OR DELETE THE CONTENTS OF YOUR USB STORAGE

Allows the app to write to the USB storage.
NETWORK COMMUNICATION

VIEW NETWORK CONNECTIONS

Allows the app to view information about network connections such as which networks exist and are connected.

VIEW WI-FI CONNECTIONS

Allows the app to view information about Wi-Fi networking, such as whether Wi-Fi is enabled and name of connected Wi-Fi devices.

CHANGE NETWORK CONNECTIVITY

Allows the app to change the state of network connectivity.

SYSTEM TOOLS

TEST ACCESS TO PROTECTED STORAGE

Allows the app to test a permission for USB storage that will be available on future devices.

AFFECTS BATTERY

CONTROL VIBRATION

Allows the app to control the vibrator.

DEFAULT

MODIFY BATTERY STATISTICS

Allows the app to modify collected battery statistics. Not for use by normal apps.
VERSION:1.0.4
SIZE:20M
SPONSORED