Description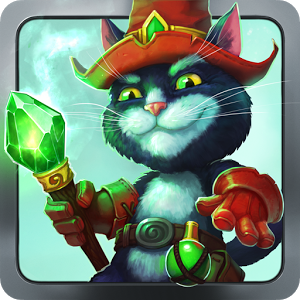 Your goblin enemies are at the gates!
Hordes of evil creatures have invaded the kingdom, sowing chaos, death and destruction. Only a true hero skilled in the art of magic can save the land! Are you your people's hero?
Choose from one of four characters to fight off wave after wave of hideous beasts.
The elements will come to your aid: thundering skies will strike the brutes with lightning, and balls of fire will burn the invaders to death where they stand.
Draw a magic gesture on your screen, and the earth will rip open with deadly acid filling the pits at your enemies' feet.Even the stars will answer your call, crushing the goblins under falling meteors.
SPONSORED

Your enemies come in all shapes and sizes: from dumb infantrymen to deadly ogres, vile shamans to explosive kamikazes.There's no turning back: your people have entrusted you with their lives.
Do whatever you see fit, Defender, but the Spell Gate must stand!
• 100 story levels – with unique requirements to advance
• Two playing modes: story and survival
• Gesture-activated spells
• Outstanding graphics and animation
• 4 heroes with unique abilities
• Lots of enemies – each with particular strengths
Screenshots
What's New
– 'back button' fixed;
– some minor bugs fixed.
Permission
Version 0.0.919 can access:
find accounts on the device
find accounts on the device
modify or delete the contents of your USB storage
read the contents of your USB storage
modify or delete the contents of your USB storage
read the contents of your USB storage
receive data from Internet
full network access
view network connections
prevent device from sleeping
disable your screen lock
Size: 36 MB
Version: 0.0.919
SPONSORED