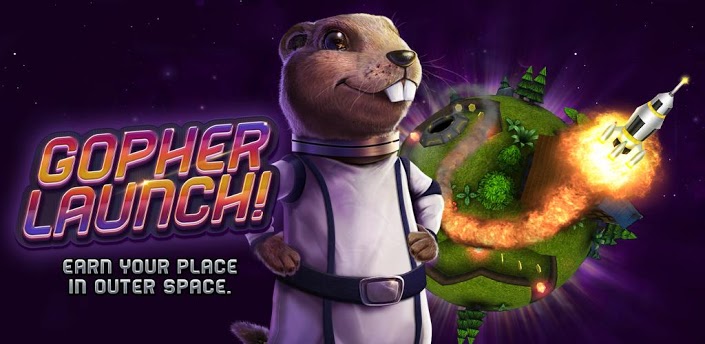 SPONSORED

Description
Earn your place in outer space with a 'revolutionary' twist on mobile gaming action! Bounce and roll your way across rotating 3D planets, racing against the clock to gather goodies from the surface and get back to your rocket before the auto-launch sequence kicks in.Stranded in a strange star system far from home, our fearless Gophernaut finds himself with his ship running on empty. Players hop from planet to planet collecting as many Fusion Crystals as they can to continue the journey home.Collect as many supplies as you can as you sprint along the maze-like pathways, avoiding the traps and enemies. It's a race against the clock: when the countdown hits zero the ship's auto-launch initiates… and it's game over for our little gopher!
PLAN A STRATEGY
Before each level begins pan across the planet surface to gain insight into where the obstacles lie and plan your path.
TOUCH 'N' GLIDE CONTROLS
Drag back and release the Gophernaut to slingshot him like a pinball across the field of play. Discover awesome Bumpers and Boost Pads that accelerate you forward at light speed!
THE CLOCK IS TICKING
It's a race to make it to your ship before the last second runs out, but keep an eye out for Time Boosts to add a few precious seconds.
NEW CHALLENGES AWAIT
Dreaded Roller Bots and Doom Balls lurk behind corners and chase you mercilessly, but the Power Suits awarded on every level grant you special skills to help deal with these and other obstacles!
A TRULY BEAUTIFUL GAME
Not only is Gopher Launch fun to play, its highly detailed 3D models and exquisite graphics also make it a lush visual experience.
App Screenshots
Videos
Permissions
THIS APPLICATION HAS ACCESS TO THE FOLLOWING:
NETWORK COMMUNICATION

FULL NETWORK ACCESS

Allows the app to create network sockets and use custom network protocols. The browser and other applications provide means to send data to the internet, so this permission is not required to send data to the internet.

PHONE CALLS

READ PHONE STATUS AND IDENTITY

Allows the app to access the phone features of the device. This permission allows the app to determine the phone number and device IDs, whether a call is active, and the remote number connected by a call.

STORAGE

MODIFY OR DELETE THE CONTENTS OF YOUR USB STORAGE

Allows the app to write to the USB storage.

YOUR APPLICATIONS INFORMATION

RETRIEVE RUNNING APPS

Allows the app to retrieve information about currently and recently running tasks. This may allow the app to discover information about which applications are used on the device.
YOUR ACCOUNTS

FIND ACCOUNTS ON THE DEVICE

Allows the app to get the list of accounts known by the device. This may include any accounts created by applications you have installed.

NETWORK COMMUNICATION

VIEW NETWORK CONNECTIONS

Allows the app to view information about network connections such as which networks exist and are connected.

RECEIVE DATA FROM INTERNET

Allows apps to accept cloud to device messages sent by the app's service. Using this service will incur data usage. Malicious apps could cause excess data usage.

SYSTEM TOOLS

TEST ACCESS TO PROTECTED STORAGE

Allows the app to test a permission for USB storage that will be available on future devices.

AFFECTS BATTERY

PREVENT DEVICE FROM SLEEPING

Allows the app to prevent the device from going to sleep.
VERSION:1.0.4
SIZE:49M
SPONSORED