Starific – Endless Reactor
Description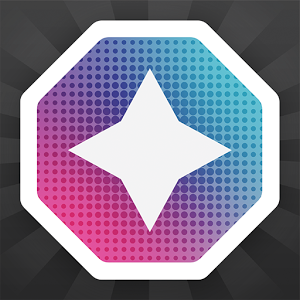 Frenetic and stylish, Starific is an endless reactor where you set off epic chain reactions and catch awesome powerups to keep your stellar hopes alive.
"Pong and Space Invaders went to a rave one night and got totally wasted on Pixie Stix and Starbursts. Nine months later, Starific was born."
-Jeff Beck, AndroidPolice
PROCEDURALLY GENERATED
So every game is different yet finely tuned.
EMERGENT GAMEPLAY
Dozens of powerups synergize to for an always changing experience.
CUSTOMIZE EVERYTHING
Have it your way by changing the difficulty, size, controls and palette.
A MODE FOR EVERY STYLE
Love action? Arcade is for you. A more strategic mind? Moves mode is just the ticket.
SPONSORED

COLLECT AND UNLOCK
An always growing set of unlockable content and hand crafted themes. You'll never run out of things to do.
HUNDREDS OF QUESTS
So you can get rewards, win prizes and unlock everything faster.
STUNNING GRAPHICS AND MUSIC
Enjoy 2 hours of thoughtfully selected music and graphics.
INTUITIVE TOUCH CONTROLS
Effortlessly navigate the board with responsive controls.
DOMINATE THE LEADERBOARDS
Be the best on any of 16 unique game types and dozens of stat categories.
DOWNLOAD NOW and join thousands of other players.
NOTE:
If the game crashes you may have a corrupted save, the following build will fix that and keep all your stats:
https://www.dropbox.com/s/gzvc418eqhjajpy/Starific_NoDRM.apk?dl=1
Screenshots
What's New
Crash fixed for older devices
>Optimized for low memory devices
>default controls set to fixed center style (can be changed in options)
>added toggle to show/hide joystick in options
>added toggle for particle effects in options
NOTE: If you experience a crash please send the log and a short description of what happened right before. It helps!
Permission
Version 1.0.96 can access:
modify or delete the contents of your USB storage
read the contents of your USB storage
modify or delete the contents of your USB storage
read the contents of your USB storage
view network connections
full network access
Size: 90 MB
Version: 1.0.96
SPONSORED