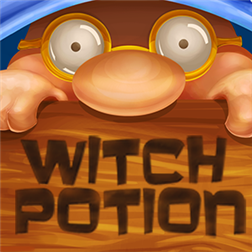 Description
Get ready to make potions! Exclusively on Windows Phone 8! A black magic surrounded the realm and is hurting the adorable creatures! Solve the puzzles, make potions and help them!
Find yourself being challenged in ever-changing MATCH-2 puzzle game – Witch Potion! Combine blood drops, rotten eggs, horse shoes and more to make potions to help poor creatures including Yeti, Ogre, Mermaid, Pegasus and many more! Be a part of a fabulous adventure!
SPONSORED

Game Features
120 FUN-TO-SOLVE LEVELS
Solve 120 challenging puzzles to help 8 different creatures
THINK HARD, LESS IS BETTER
Minimize your number of moves and be the best
EVER-CHANGING GAMEPLAY
In each chapter, get introduced to new game elements and face new challenges
COLLECT STARS
Earn stars and master before helping the next creature
GET FOLLOWED OR BE A FOLLOWER
Login with Twitter to see how you are doing
ASK HELP FROM YOUR FOLLOWERS
Send tweet to your followers to ask help and get the next chapter for free
And many more features are waiting for you in the game! Remember, only salvation is your potions!
Screenshots
Info
Works with
Windows Phone 8.1
Windows Phone 8
App requires
phone identity
owner identity
location services
music library
photos library
data services
push notification service
movement and directional sensor
web browser component
HD720P (720×1280)
WVGA (480×800)
WXGA (768×1280)
Supported languages (7)
Englishfrançaisitalianoportuguês (Brasil)русскийTürkçe中文(简体)
SPONSORED