City of Secrets 2 Episode 1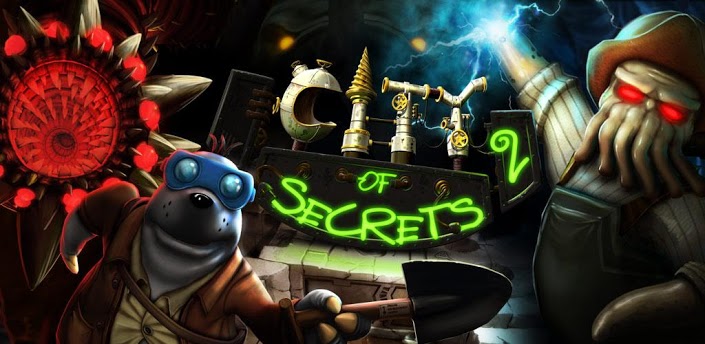 SPONSORED

Description
City of Secrets 2: Episode 1 is the sequel to the original game, appreciated worldwide by gamers and reviewers, the game that successfully refreshed the classic adventure game genre, conveying it to the touchscreen devices.Simple, intuitive controls, designed for touchscreen devices.
Carefully designed, hand-drawn backgrounds.
All dialog lines voiced.
Two difficulty settings, for both the experienced and beginner players.
A challenging adventure enriched by logical challenges.
Usually, a dangerous and perilous adventure hides behind a completely innocent beginning. A beginning that doesn't mention anything about a giant worm, dangerous cooking recipes, the common people fighting the oppressive regime, rebelling workers and trade unions. Nor does it mention a strange salesman that forgoes the career of a dark god to start his own fish stand business. An innocent beginning doesn't say anything that could be linked to words like danger, trouble or threat. It's just the way with all those adventures, it seems they have nothing better to do than just render a man's… animal's… mole's… life unpleasant.
Moles the Mole, a not-so-bright and nice hero, but a hero nonetheless, will have the questionable opportunity to discover what fate has in store for him. One night, closer to morning than evening, Moles has been brutally awakened by scary noises. Fear tightened it's icy grip on Moles' heart and just when our hero was about to execute a tactical withdrawal, the mystery solved itself – with a terrifying series of noises, our hero's most impressive muscle was demanding a night snack.
Unfortunately, the problem with adventure games is that nothing's ever easy in them. The fridge is empty, the designer didn't draw a larder and the writer already had an idea how to complicate the hero's life. Now that's an innocent beginning, if I've ever seen one. And you know what's the usual deal with those innocent beginnings.
This game was tested on animals. They didn't like it and went away.
This game was tested on testers. Nobody asked them if they wanted to do it and they couldn't get away.
City of Secrets 2 has been divided into 4 closely-tied episodes. Next episodes coming soon! At least… we hope so.
App Screenshots
Videos
Permissions
THIS APPLICATION HAS ACCESS TO THE FOLLOWING:
NETWORK COMMUNICATION

FULL NETWORK ACCESS

Allows the app to create network sockets and use custom network protocols. The browser and other applications provide means to send data to the internet, so this permission is not required to send data to the internet.

PHONE CALLS

READ PHONE STATUS AND IDENTITY

Allows the app to access the phone features of the device. This permission allows the app to determine the phone number and device IDs, whether a call is active, and the remote number connected by a call.

STORAGE

MODIFY OR DELETE THE CONTENTS OF YOUR USB STORAGE

Allows the app to write to the USB storage.

YOUR APPLICATIONS INFORMATION

RETRIEVE RUNNING APPS

Allows the app to retrieve information about currently and recently running tasks. This may allow the app to discover information about which applications are used on the device.
YOUR ACCOUNTS

FIND ACCOUNTS ON THE DEVICE

Allows the app to get the list of accounts known by the device. This may include any accounts created by applications you have installed.

NETWORK COMMUNICATION

GOOGLE PLAY LICENSE CHECK

Google Play license check

VIEW NETWORK CONNECTIONS

Allows the app to view information about network connections such as which networks exist and are connected.

VIEW WI-FI CONNECTIONS

Allows the app to view information about Wi-Fi networking, such as whether Wi-Fi is enabled and name of connected Wi-Fi devices.

SYSTEM TOOLS

TEST ACCESS TO PROTECTED STORAGE

Allows the app to test a permission for USB storage that will be available on future devices.

AFFECTS BATTERY

PREVENT DEVICE FROM SLEEPING

Allows the app to prevent the device from going to sleep.
VERSION:1.2
SIZE:1.5M
SPONSORED