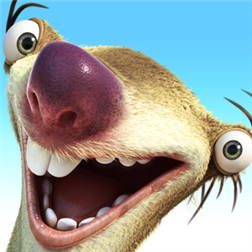 Description
Scrat's nutty pursuit of the cursed acorn has world-changing consequences.
Manny, Diego, and the rest of the herd are suddenly floating out to sea at the edge of a continental cataclysm. Left all alone, Sid needs your help to rescue his friends and save the entire herd.
Get ready for ICE AGE ADVENTURES!
AN EPIC ADVENTURE
• Explore the unknown with Sid, Manny and Diego
• Travel through diverse environments
• Uncover secret treasures and defeat iconic villains
RESCUE THE HERD
• Play a match-3 mini-game and sled with Sid to save the day
• Recruit Precious and bring the herd together quickly
A SCRAT-ASTROPHE!
• Escape the avalanche in an addictive runner mini-game
• Use rescued animals as power-ups
• Compete with friends in daily & weekly challenges for rewards
_____________________
This app allows you to purchase virtual items within the app and may contain third-party advertisements that may redirect you to a third-party site.
Terms of use: http://www.gameloft.com/conditions/
Screenshots
Info
Last updated
8/7/2014
SPONSORED

Works with
Windows Phone 8.1
Windows Phone 8
App requires
phone identity
media playback
data services
push notification service
movement and directional sensor
web browser component
HD720P (720×1280)
WVGA (480×800)
WXGA (768×1280)
Supported languages (15)
العربيةDeutschEnglish (United States)Español (España, alfabetización internacional)françaisBahasa Indonesiaitaliano日本語한국어português (Brasil)русскийไทยTürkçe中文(简体)中文(繁體)
SPONSORED