Description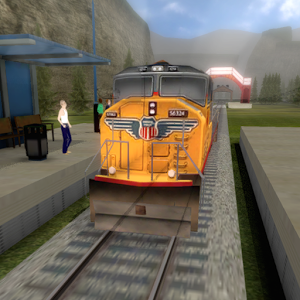 Excellent new Train Simulator game has arrived!
Amazing train simulator game fun for both adults and children who have a passion for trains, locomotives, steam engines, rail and all things railroad. There are even passengers waiting in stations as you drive your train along the track.There are many trains in this simulation: freight trains, steam trains and passenger trains. Use your skill to drive historical or modern trains perfectly recreated in 3D.
Whatever you call a train: railway cars, wagons, locomotive or steam. This game is for you
FEATURES
– Brill and realistic 3D graphics
– Steam and Diesel trains
– Views above train, inside drivers seat, from carriage
– Train Crashes
– Pick up and drop of passengers
Trains and the railway have been one of the most important inventions in the history of mankind, they transport goods, people and materials over vast distances and now you have the chance to drive one!
SPONSORED

A train is a form of rail transport consisting of a series of vehicles that usually runs along a rail track to transport cargo or passengers. Motive power is provided by a separate locomotive or individual motors in self-propelled multiple units. Although historically steam propulsion dominated, the most common modern forms are diesel and electric locomotives, the latter supplied by overhead wires or additional rails.
Screenshots
What's New
New level "City"
– less banner ads
Permission
Version 9 can access:
read phone status and identity
modify or delete the contents of your USB storage
read the contents of your USB storage
modify or delete the contents of your USB storage
read the contents of your USB storage
read phone status and identity
full network access
view network connections
prevent device from sleeping
Size: 34 MB
Version: 9
SPONSORED