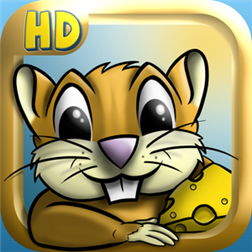 Description
** Great puzzle game World of Cheese is now free! Experience extraordinary adventure, solve dozens of puzzles and feed little hungry mouse. **
SPONSORED

Meet Mr. Mousey, a proud member of huge mice family. Unfortunately, he is in trouble, bad times have come and stashes full of cheese are suddenly empty! The only way to turn luck on mice´s side is guiding Mr. Mousey through house to look for hidden pieces of cheese.
EXPLORE THE HOUSEHOLD
Visit 7 different stages of huge manor, solve the problems in 35 rooms and make Mousey happy by finding a treasure for him. Reveal mysteries in the attic, build your own robot, work on courtyard or repair car in garage, use the bathroom then and prepare some meal in kitchen after calming down the angry dog. And then just have fun in playroom or relax in living room. The cheese can be hidden anywhere!
BE SMART
Finding the yellow titbit is not easy, you have to use your puzzle solving skills, ability of thinking in various contexts and making right combinations. Think twice before each tap, accomplish your mission with minimum touches on the screen.
LEARNING BY HAVING FUN
Mr. Cheese can teach you little bit about continents, something about engines, how to cook scrambled eggs, how to play chess, how to count, why is garbage separation important and much more. Everything is happening for a reason, just find out!
Features:
– 7 different locations
– 35 levels + 5 bonus levels
– Logic puzzle game
– House full of adventures
– Easy to control, just point-and-click (or rather point-and-tap)
– Cute cartoon graphics
– Catchy music
– Family fun game
Screenshots
Info
Download size
65 MB
App requires
phone identity
music library
media playback
data services
movement and directional sensor
HD720P (720×1280)
WVGA (480×800)
WXGA (768×1280)
Supported languages (4)
češtinaDeutschEnglish (United States)slovenčina
SPONSORED