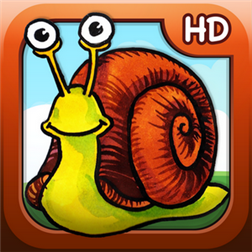 Description
Are you ready for a trip to fairy world of small creatures? If so, prepare yourself for a challenge that will test your logical thinking and reactions.
Survival of cute little gastropods is at stake and you've been chosen to save them. Your mission is to protect the molluscs by avoiding dangerous traps, covering them with objects or deflecting the rocks which are going to crush their fragile shells.
It's only up to you to find a way how to solve dozens of puzzles and tricky situations. Are you clever enough to make it? Find it out yourself while passing through exciting 24 levels.
Achieve full 3 star rating in each level to become an ultimate snail savior.
Features:
*free physics arcade
*bunch of witty mumbling snails
*perfect boredom killer & travel companion
*24 levels
*easy controls
*merciless time limit
*logic puzzles
*beautiful hand-drawn graphics
*a must for all nature lovers – featuring animals: Ms. Fly and Mr. Bird (not the angry one, seriously)
*great fun for kids and the whole family
*main antagonists are scorching sunbeams and rolling stones
*loads of bonus items to be collected (honestly, you only can gather stars but there's lots of them)
Hint:
Our snails are attracted by smelly Swiss cheese and, obviously, the gravity 😉
SPONSORED

Señor Snail was mentioned by:
Ann, AppZoom.com:
"Graphics are excellent and so is the challenge in every level. Drag every item to its right place and watch the snails survive… or not."
Dexter, AppReviewsCentral.com:
"Save The Snail is a fun and challenging strategy game with easy-to-use controls."
Moran, AndroidCom.net:
"Just make long story short, Save the Snail is great option for relaxing in casual psychics puzzle way."
Michael, AndroidParlor.com:
"Most puzzle games are about building tracks to avoid a catastrophe, or killing zombies (and even pigs!), but Save The Snail is about the opposite. You don't want anything to die!"
Screenshots
Info
Download size
25 MB
App requires
phone identity
owner identity
location services
music library
photos library
data services
phone dialer
movement and directional sensor
web browser component
HD720P (720×1280)
WVGA (480×800)
WXGA (768×1280)
Supported languages (8)
češtinaDeutschEnglishEspañol (España, alfabetización internacional)françaisрусский中文(简体)中文(繁體)
SPONSORED